Dana White, President of the UFC, has served as such for more than 20 years. White's popularity has increased as mixed martial arts, and the UFC have grown.
This was evident when the promotional frontman posted a photo showing a woman tattooing his name onto her back.
Instagram user @nit_soisuda posted a photo with her new tattoo on her back, which reads 'Dana White in cursive font.' She captioned the story.
"My back up 🙏🏻❤️ Respectful to you"
White, who had been tagged, posted it on his Instagram story.
"Holy s**t 🙏🏻"
Below is a screenshot from Dana White's Instagram Story: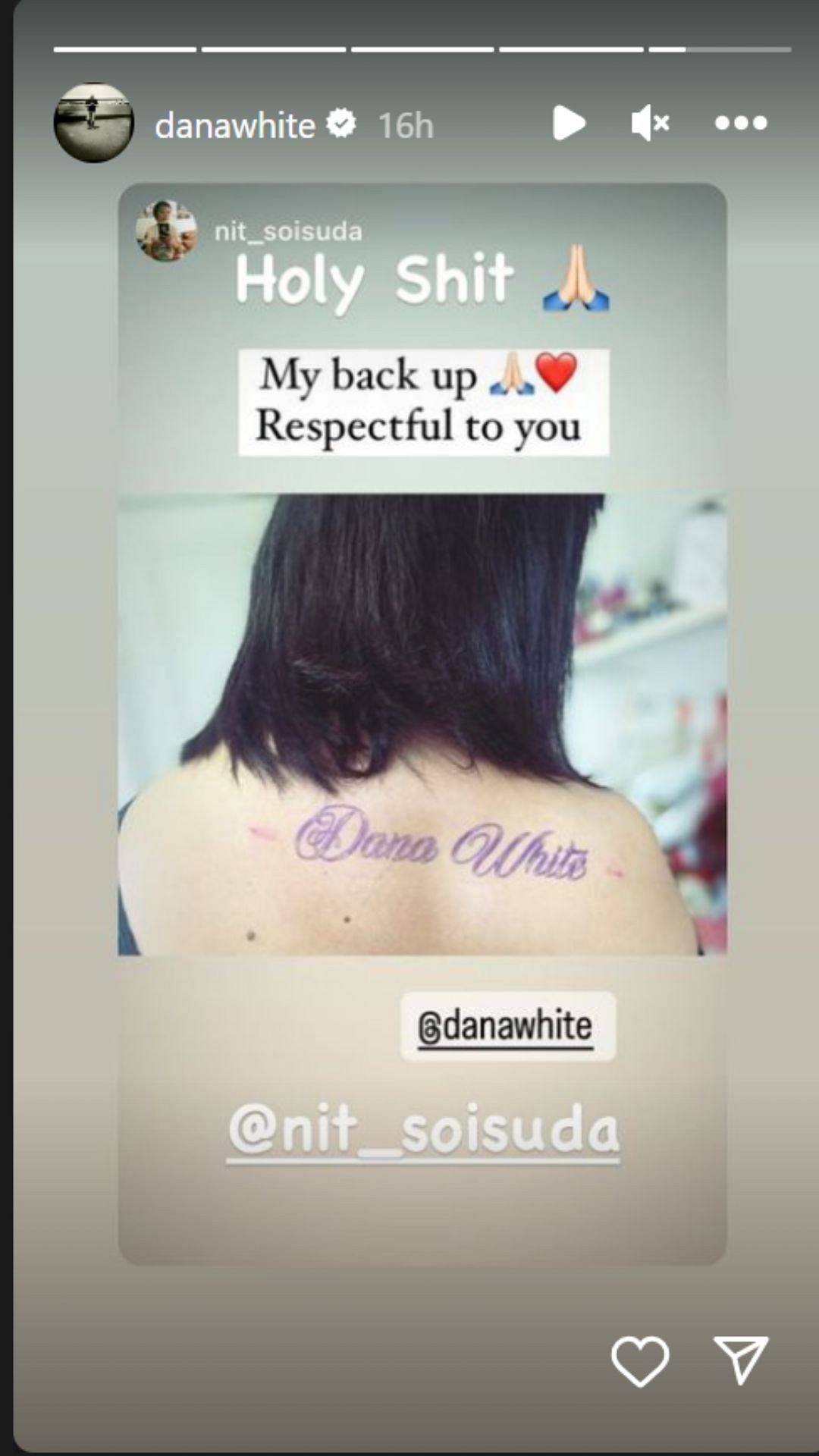 White has been in public view for almost half his life. Having fans remember you in this way must be a wonderful feeling.
Fans and fighters have called him out during his tenure as UFC president. He has become one of the most popular sportsmen.
White has been the President of the UFC for the last 20 years. The success of the UFC is astronomical. There is no indication that White plans to leave the UFC anytime soon, as he seems to enjoy his job.
---
Dana White updates on Conor McGregor's return and discusses USADA
Dana White wasn't happy with the reaction he received when he refused to comment on Conor McGregor joining the United States Anti-Doping Agency testing pool. The promotional frontman made the following statement to the media after UFC 290:
"There's a lot of business that needs to be handled before we talk about this and I was doing an interview on Friday and a bunch of f**king s**mbags wrote stories that I said, 'F**k USADA, I don't care what USADA says.' It's not even remotely close to what I said, so first of all I'd like to say, 'F**k you' to everybody that wrote that story, number one.
"And number two: There's a whole lot that needs to happen before he fights."
See Dana White's complete comments below.
Comment and share the article.