Weird NJ is excited to participate in the ROCK OF AGES PUNK ROCK FLEA MARKET & TATTOO EXPO at the New Jersey Convention & Exposition Center in Edison on September 8 – 10. (Weird NJ publisher Mark & Mark will be there on Saturday and Sunday ONLY, the 9th and 10th.) It's the only event of its kind in the country that takes the legendary status of the Trenton Punk Rock Flea Market and merges it with hundreds of tattoo artists from across the globe.
We are featuring THREE DAYS and hundreds of DIY artists, Makers, Crafters, Specialty Food Makers, Taxidermists, Antique Sellers, Horror Vendors, Original Clothing Makers, dozens of different Food Trucks, as well as hundreds of the most dynamic and well-known Tattoo Artists!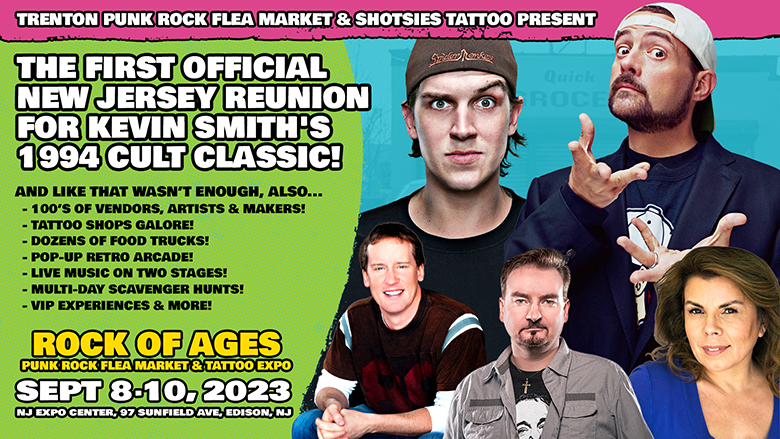 THE FIRST OFFICIAL GARDEN STATE CLERKS REUNION!
For the first time in nearly 30 years, the CAST OF CLERKS will be together once again in the great Garden State for the FIRST EVER STATE OF NJ CLERKS REUNION happening Sept 8-10, 2023 at the ROCK OF AGES Punk Rock Flea Market & Tattoo Expo presented by the Trenton Punk Rock Flea Market and Shotsie's Tattoo at the NJ Expo Center in Edison, NJ!
Visit with the CAST OF CLERKS and snag photo ops and autographs, shop from hundreds of artists & makers, get tattooed from any of 100 tattoo shops from across the country, gorge yourself on dozens of food trucks, play retro video games in our pop-up arcade and so much more!
Advance tickets are encouraged and are now available at www.tprfm.com! You MUST purchase a show ticket to meet the cast of Clerks. No Exceptions.
Comment and share on this article: