When declaring love, Brooklyn Beckham has taken the art of expression to a new level. The young Beckham scion has etched his devotion to his wife, Nicola Peltz Beckham, not just in his heart but all over his body, with a staggering collection of 70 tattoos dedicated to their love story. You read that right: 70 tattoos, each a testament to the depth of his affection.
While Brooklyn's public displays of affection for Nicola have been well-documented, the sheer number of tattoos devoted to his beloved is a remarkable testament to their enduring love. The inked expressions of love are showcased on Brooklyn's body, each tattoo narrating a chapter of their romantic journey.
Their love story officially began with an extravagant Palm Beach ceremony in 2022, where they exchanged vows and celebrated their union in style. However, as he explained to USA Today, Brooklyn's dedication to expressing his love through tattoos had already taken root. In his own words, he shared, "I kind of was just like, 'Oh, we're married, why not?' It wasn't a thing I thought about for months. I got married five months ago; why not?"
Brooklyn further revealed that Nicola's reaction to each new tattoo is consistently emotional, explaining, "She always cries when I get her another tattoo. I always love to surprise her with new ink." These tattoos serve as a personal declaration of love and a touching way for Brooklyn to surprise and remind Nicola of his unwavering affection continuously.
Among Brooklyn's extensive collection of love-inspired tattoos, one is the most extraordinary and intimate—the couple's wedding vows. These heartfelt promises, inscribed across Brooklyn's arm, read like a love letter etched in ink:
"Nicola, when you walked down the aisle, you took my breath away. You look so beautiful tonight and always.
Let me start by saying that words cannot describe my love for you. Looking at you, I see my future, which feels like a dream. You are my world, and I continue to fall more in love with you daily.
View this post on Instagram

Having you in my life is the best thing that has ever happened to me, as you have made me become the man I am today.
I have been looking forward to this day for so long because today is the day I get to marry you, my forever babe, my love, and my best friend, Nicola — today, you become my partner, my other half, and my family and because of that I am the luckiest man in the world to be able to spend the rest of my life with you.
I promise to be the best partner, husband, and man and always care for you, make you laugh, feel safe, and, more importantly, be loved.
I can't wait to live out our dreams together, have lots of babies, and be yours forever because you are mine forever."
This emotional and poetic tribute encapsulates the depth of their bond and constantly reminds them of their love story's enduring chapters. Brooklyn's commitment to ink is not just a personal choice but a symbol of his unwavering love and devotion.
While Brooklyn has not revealed all 70 tattoos dedicated to Nicola, several have been shared with the world, each carrying a special meaning:
Nicola's face.
brooklyn beckham's tattoo of nicola peltz…speechless pic.twitter.com/WexvgqXEMs

— LIL BITCH (@bitch_rights) March 23, 2023
There is just no excuse for celebrities having bad tattoos. You have access to the best tattoo artists in the world, what are you doing Brooklyn Beckham😭

— Adrienne (@adiwildridge) March 26, 2023
Brooklyn's upper arm features a permanent portrait of Nicola's face, a bold declaration of his love.
Wedding song lyrics.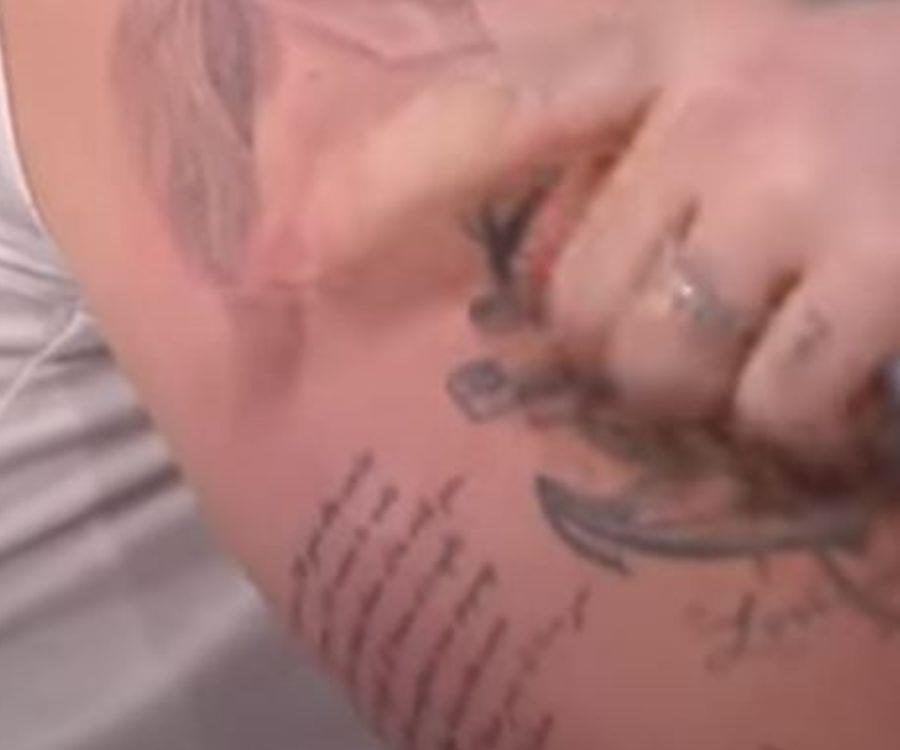 On the same day he had Nicola's portrait inked, Brooklyn added lyrics from the song they walked down the aisle to, creating an artistic connection to their wedding day.
The word 'married'.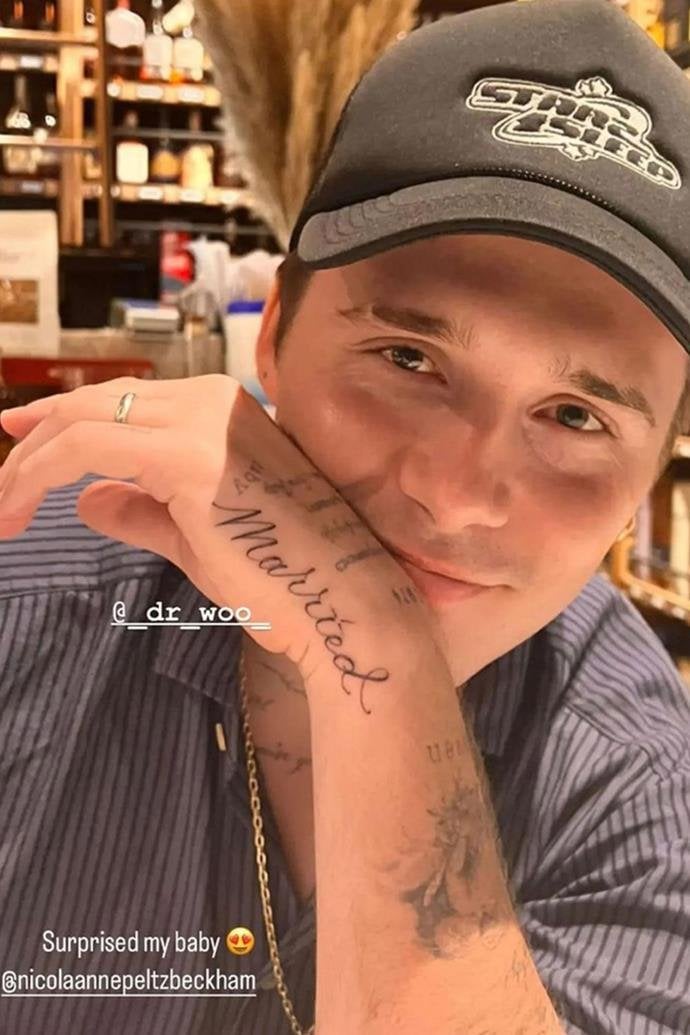 Shortly after their wedding in August 2022, Brooklyn tattooed the word 'married' on the edge of his hand and wrist, making it clear that he's proudly committed.
The couple's wedding vows.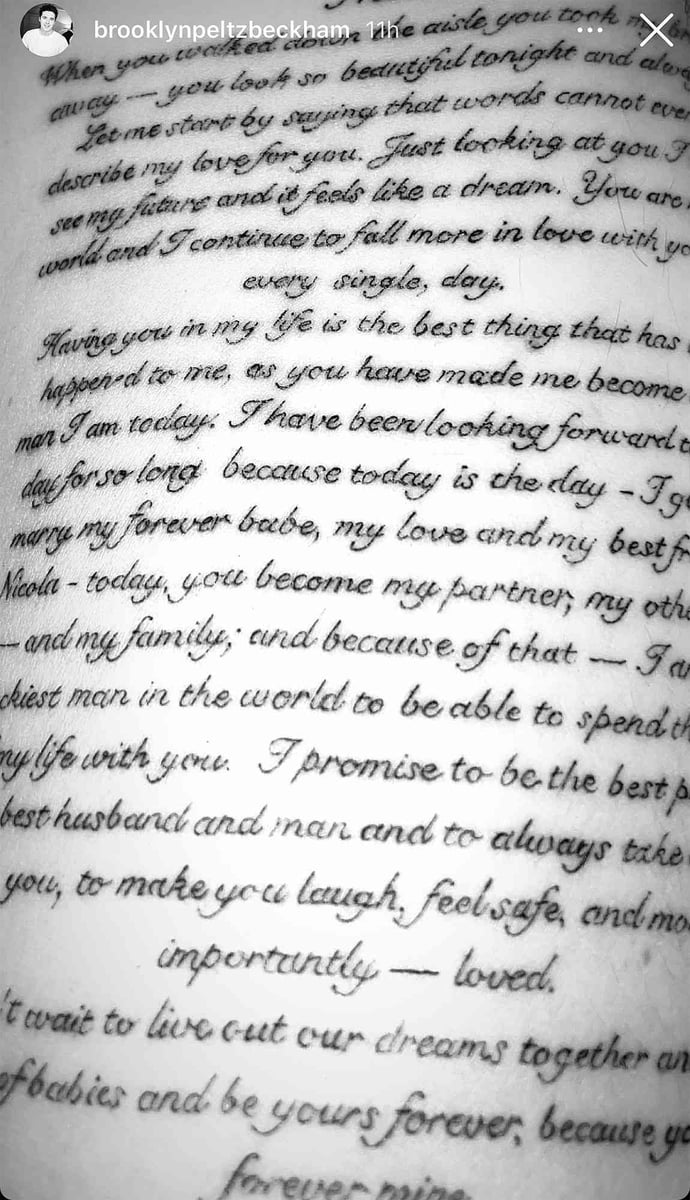 He further honored Nicola by tattooing her last name, "Peltz," across his chest in elegant cursive script framed by cupids.
Nicola's grandma's name.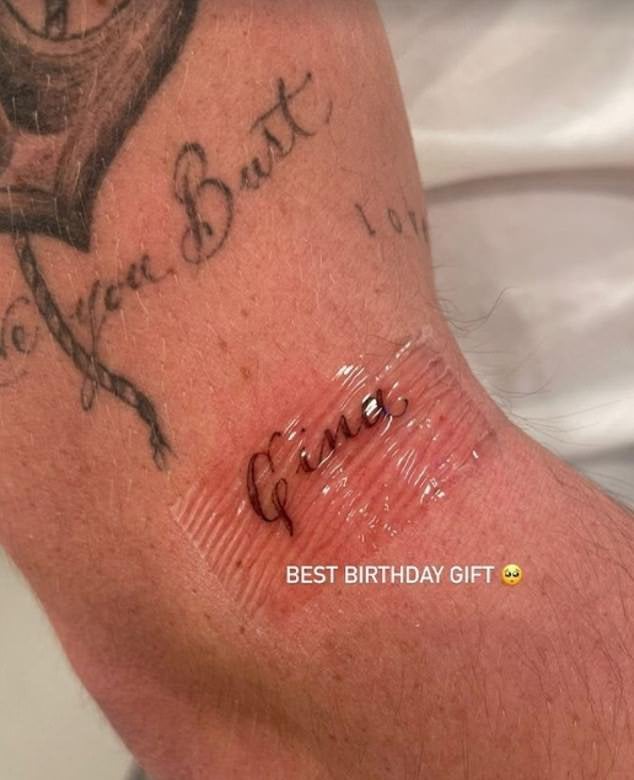 In a touching gesture, Brooklyn commemorated Nicola's grandmother, Gina, by getting her name tattooed on his arm, marking a special birthday gift for Nicola.
A family prayer.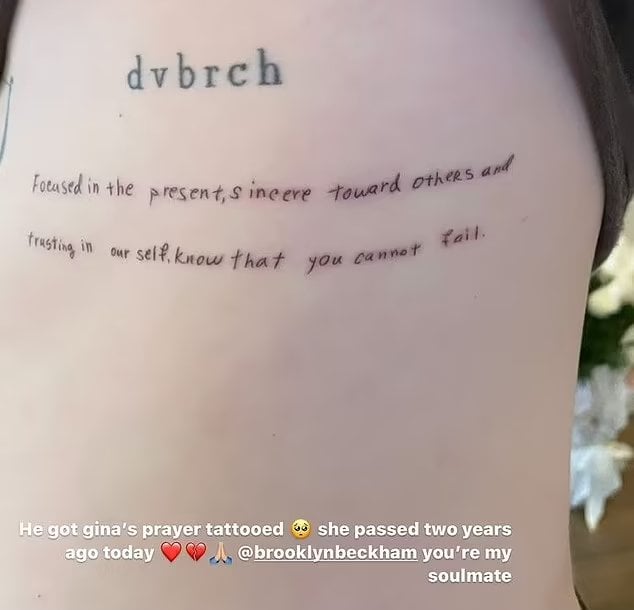 On the anniversary of Gina's passing, Brooklyn added her favorite prayer to his ink collection, a tribute that carries deep sentimental value.
Nicola's eyes.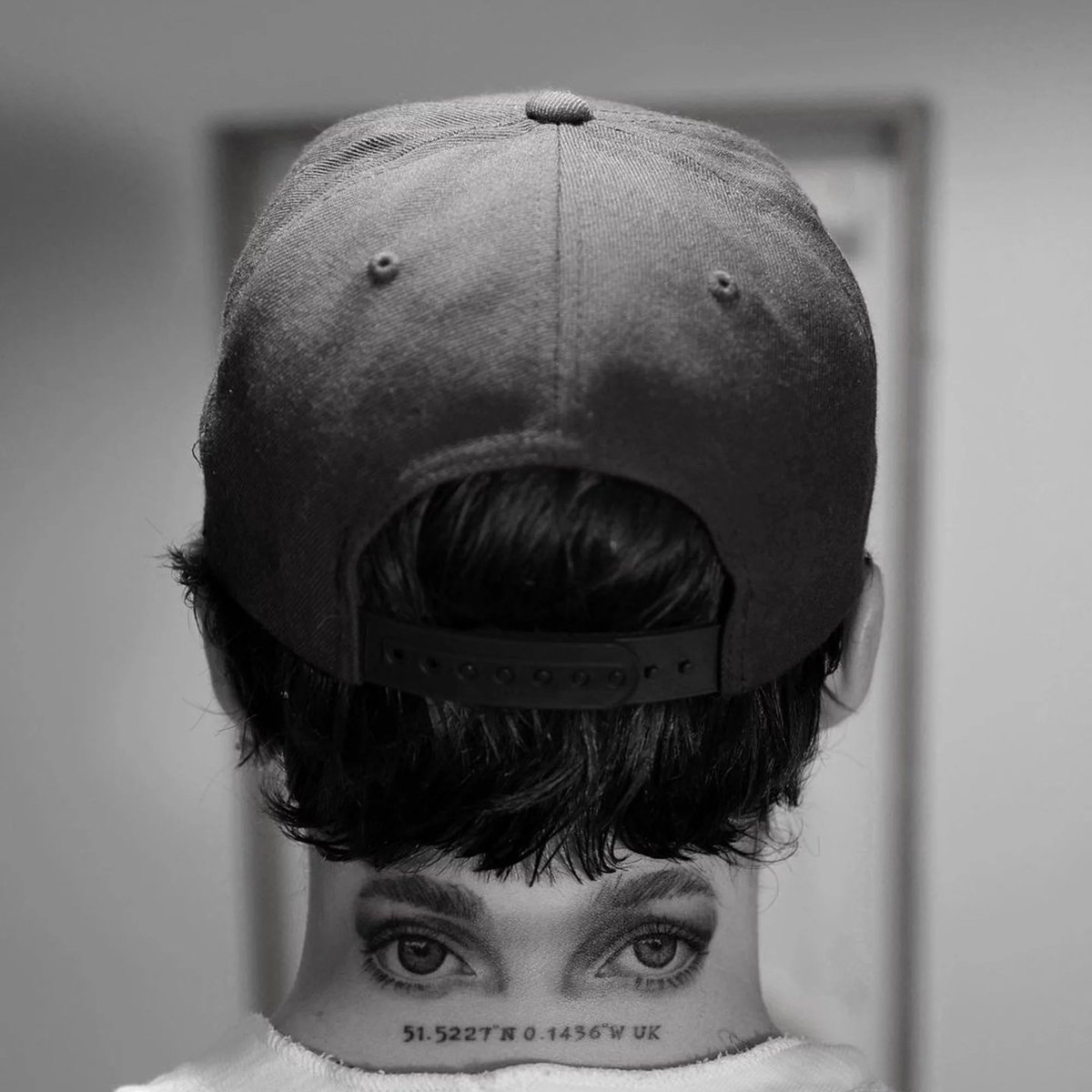 In addition to her portrait, Brooklyn also tattooed Nicola's eyes on the back of his neck, signifying her significance in his life.
A love letter.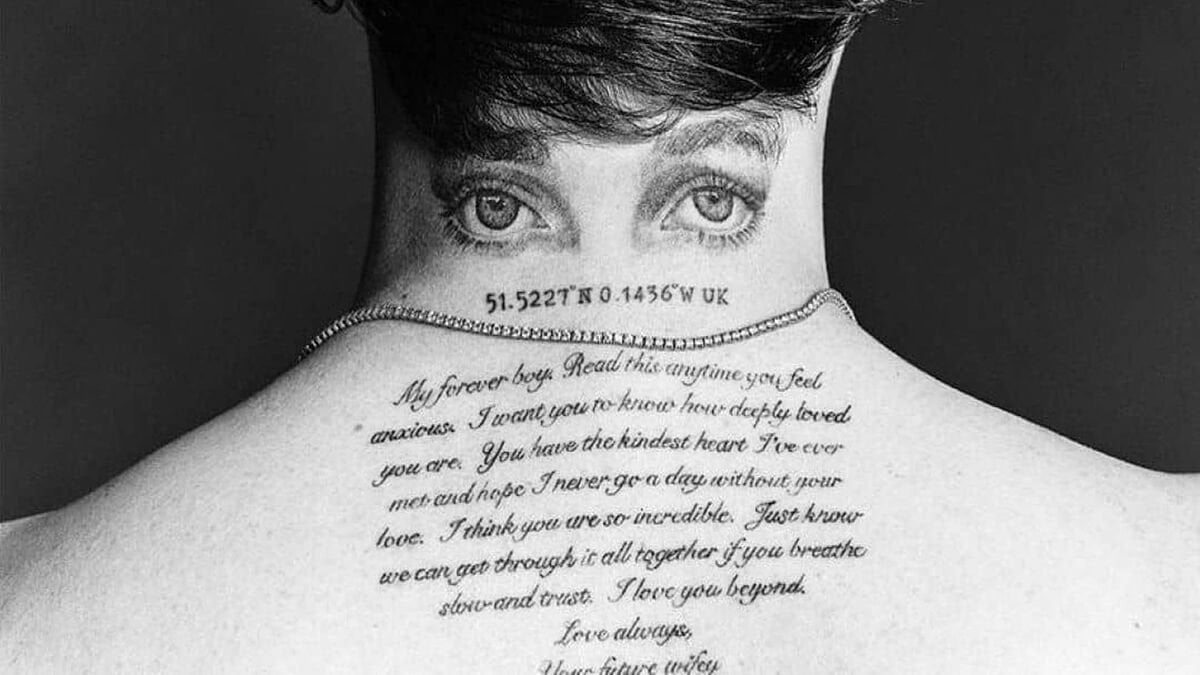 Directly below her eyes, Brooklyn inked a love letter Nicola had written to him, a heartfelt reminder of their connection.
A wedding band.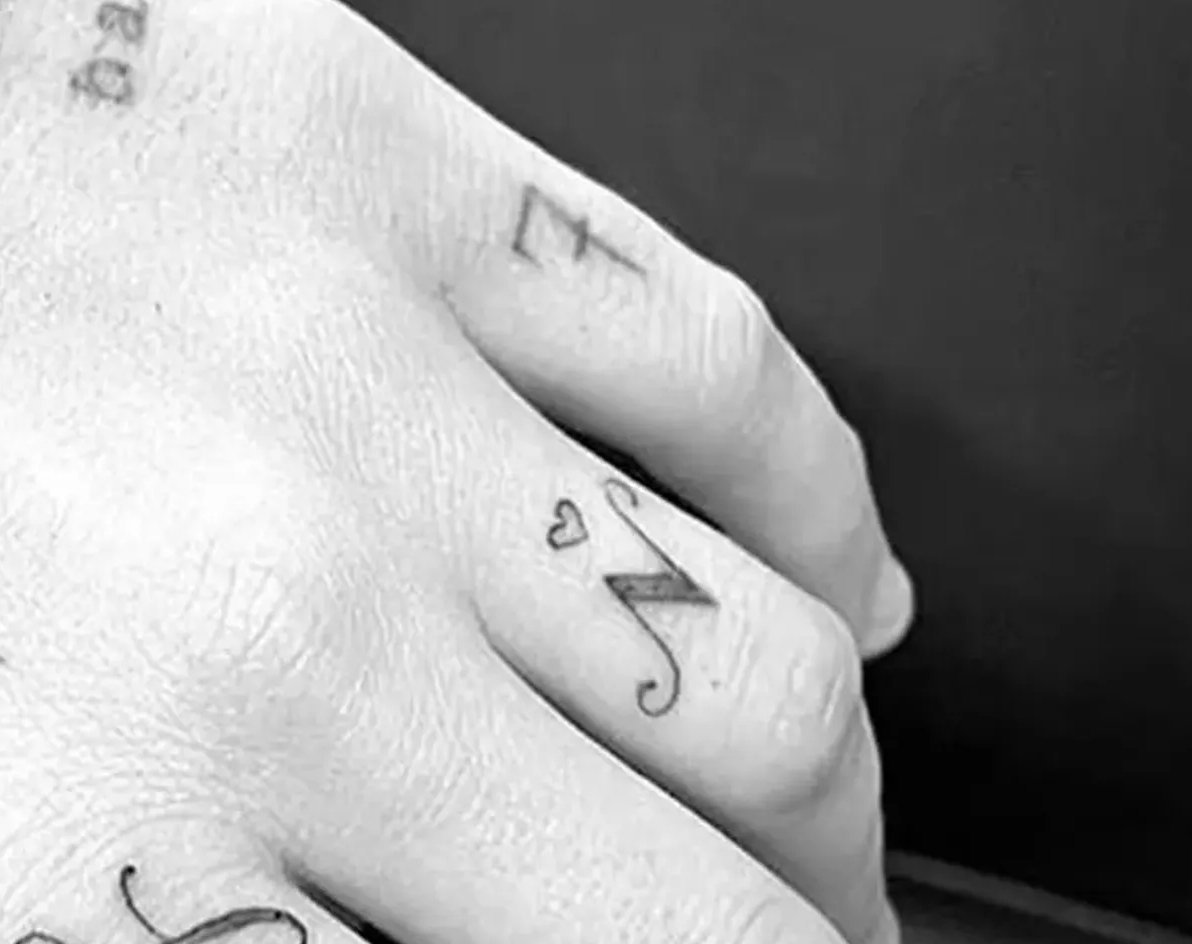 Brooklyn tattooed the letter "N" on his fourth finger to symbolize their marital bond, where a wedding band traditionally resides.
The word 'lover'.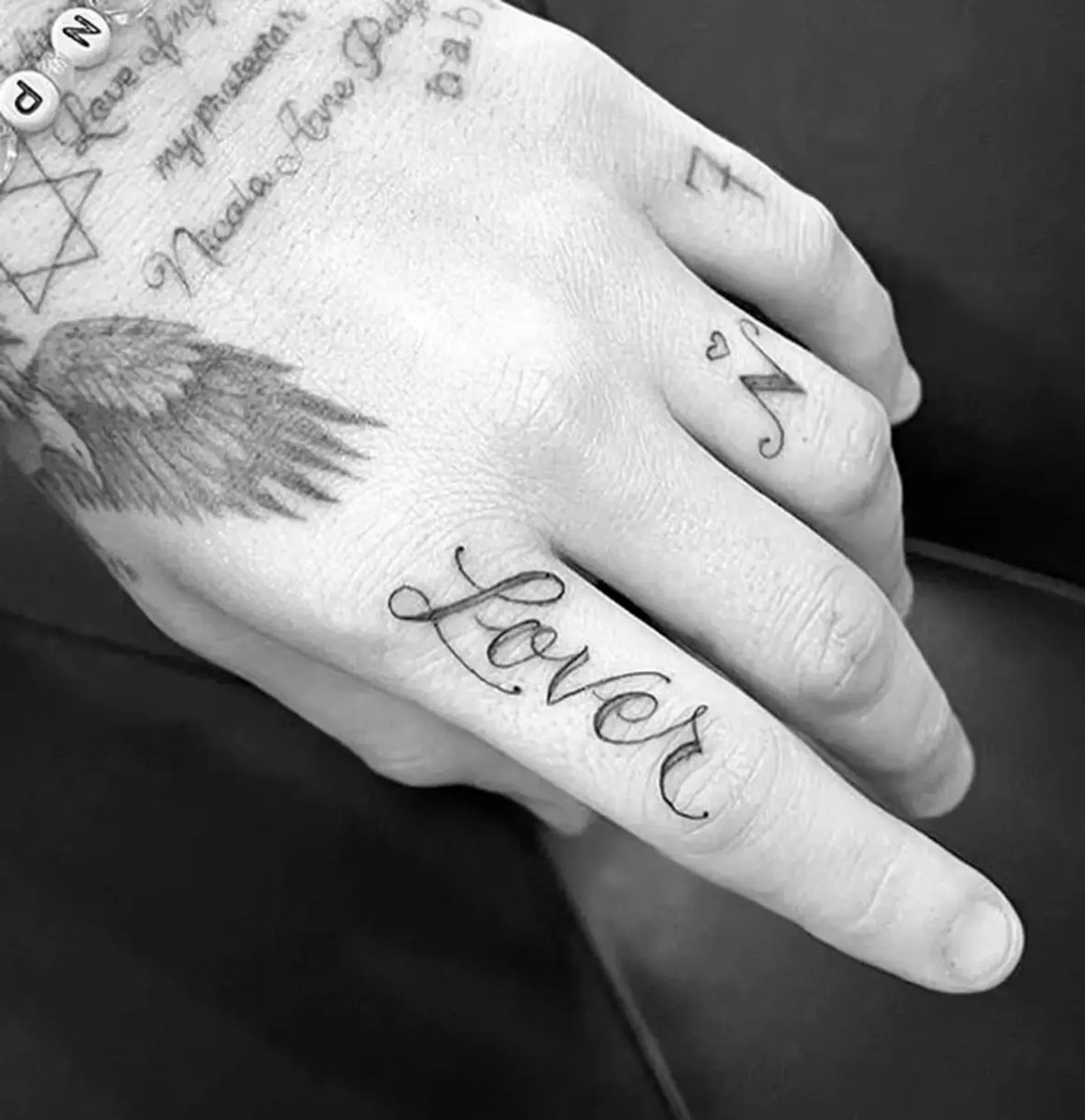 Brooklyn added the word "lover" across his index finger in December 2021, capturing the essence of their romantic relationship.
The word 'baby'.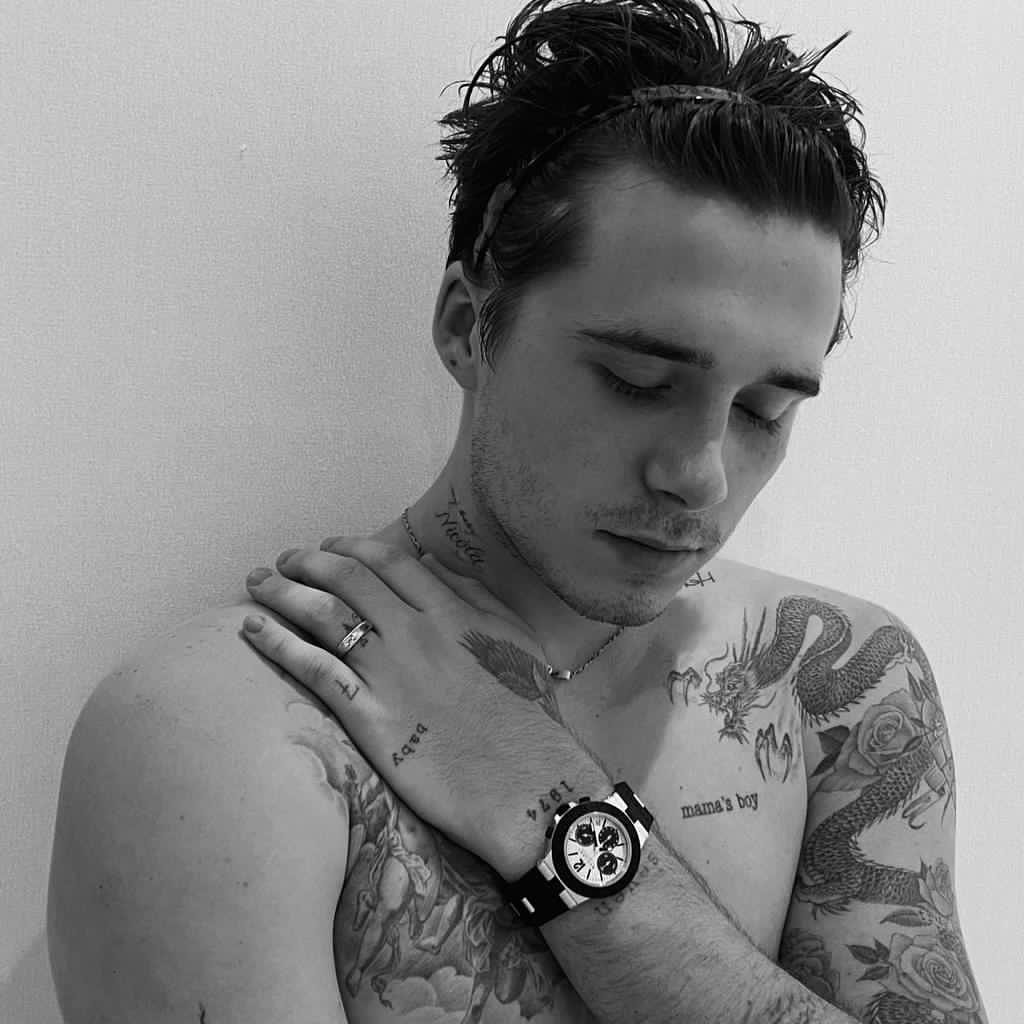 On his left hand, Brooklyn wears tattoos that read "baby" alongside Nicola's full name, along with the affectionate terms "love of my life" and "my protector."
Brooklyn's extensive tattoo collection becomes a canvas of their love story, each inked expression carrying a unique significance and narrative. It's a visual testament to their love's depth and special bond. With each new tattoo, Brooklyn surprises Nicola and solidifies their love story in permanent ink, ensuring their enduring romance is etched into his heart, soul, and skin.