The iconic world of the University of Southern California (USC) is no stranger to spirited students showcasing their school pride. Yet, when Isabella Strahan, daughter of GMA host Michael Strahan, flaunts her Trojan spirit, it captures attention.
Recently, Isabella, aged 18, gave her TikTok followers a taste of her enthusiasm for USC. In a spirited video, she and her friends confidently walked down the streets, enveloped in USC merchandise.
In her enthusiasm, Isabella had adorned her right shoulder with a temporary tattoo of USC's iconic Trojan mascot. This spirited emblem perfectly matched her black USC tube top, which she tastefully paired with light blue denim overalls.
In the TikTok, Isabella lip-synced to the beats of Topia Twins by Travis Scott, Rob49, and 21 Savage. The choice of song and her chic outfit embodied the vivacity of youth and the pride of being part of an esteemed institution.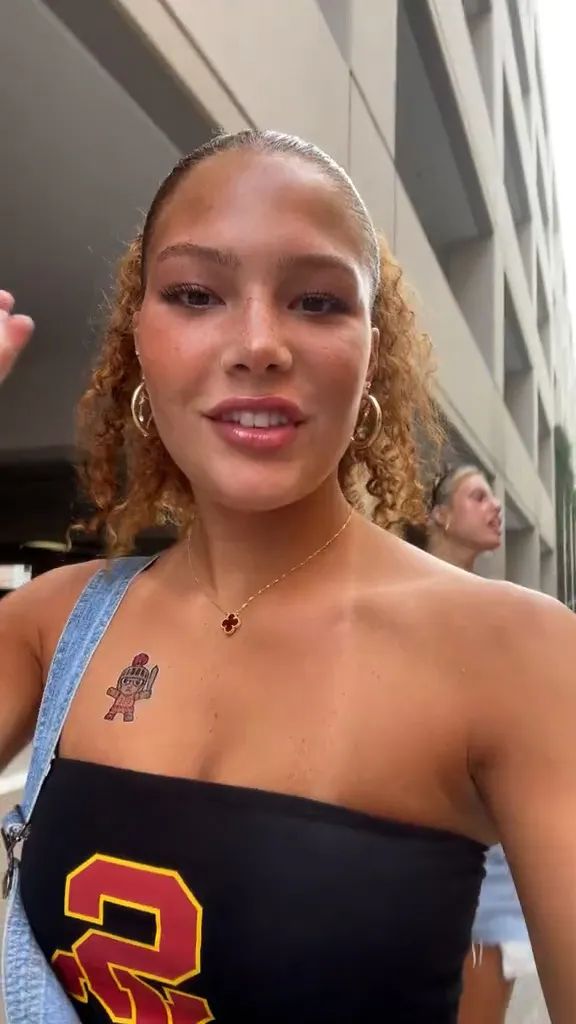 Isabella, born in December 2004, shares her journey with her twin sister, Sophia. The two are the cherubic results of Michael Strahan's seven-year marriage to Jean Muggli.
As life's divergent paths would have it, while Sophia opted for the academic rigor of Duke University, Isabella has been carving her niche in the modeling world.
This young model's educational milestones are no less impressive. In June 2023, she graduated from the esteemed Convent of the Sacred Heart High School. It was a proud moment that Michael, the doting father, celebrated on his Instagram.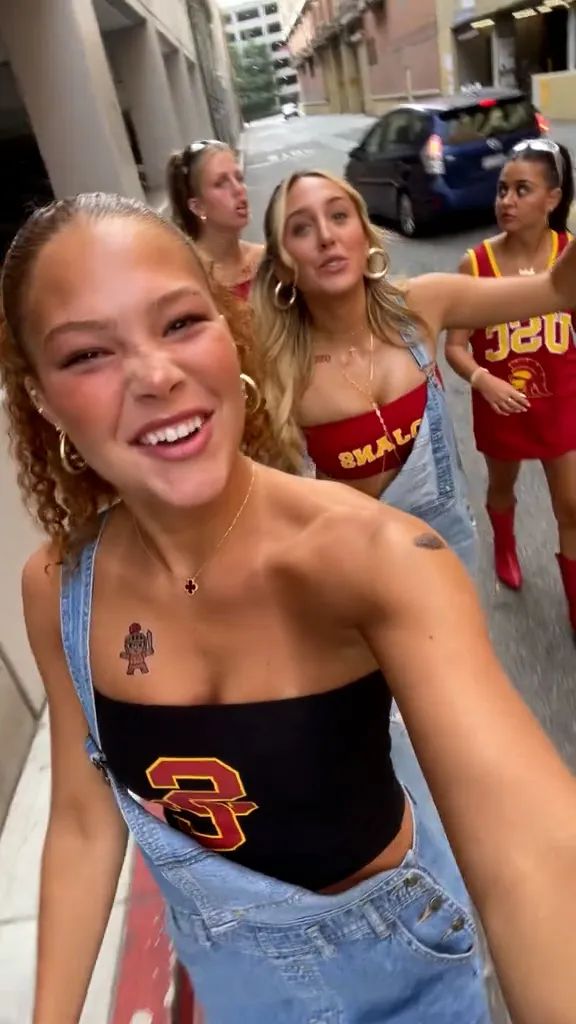 The subsequent fall saw her entering the gates of USC, ready to embark on a new academic adventure. Parallelly, Isabella's modeling career has been burgeoning. Her impressive debut on the runway was for the Sherri Hill fashion show in April 2022.
Her association with Overtime followed this. Demonstrating her style and grace, Isabella recently treated her social media followers to a series of photographs.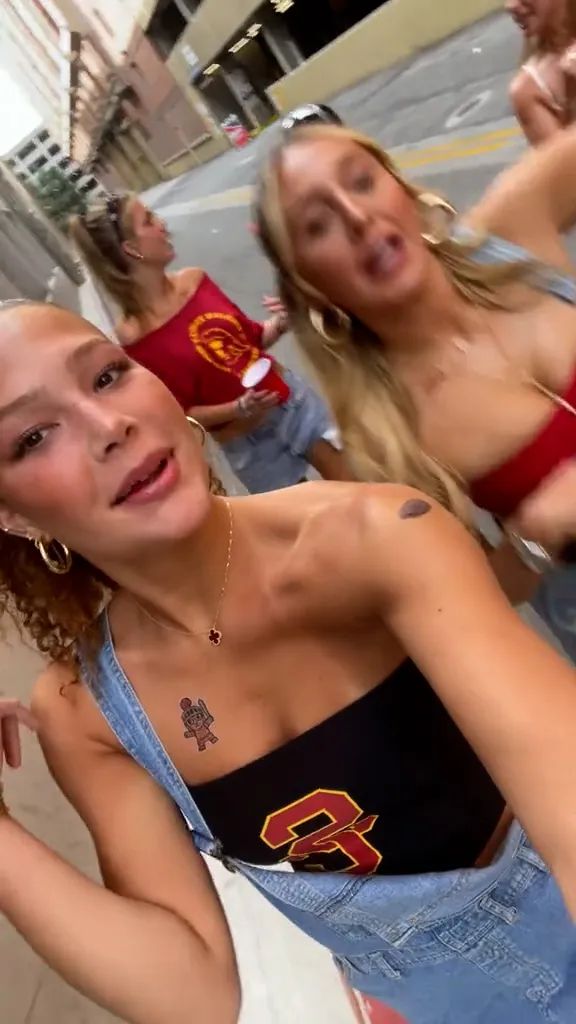 Clad in a ribbed pastel pink bikini from KBSwim, a fresh line by designer Kenzie Bongiorno, she looked the epitome of summer. "Summer's end," she captioned.
One photograph beautifully captured her serenity as she reclined on a picnic blanket, soaking in the sun's filtered rays. Another saw her relaxed on a porch's steps, donning a sun hat, projecting an aura of leisurely elegance.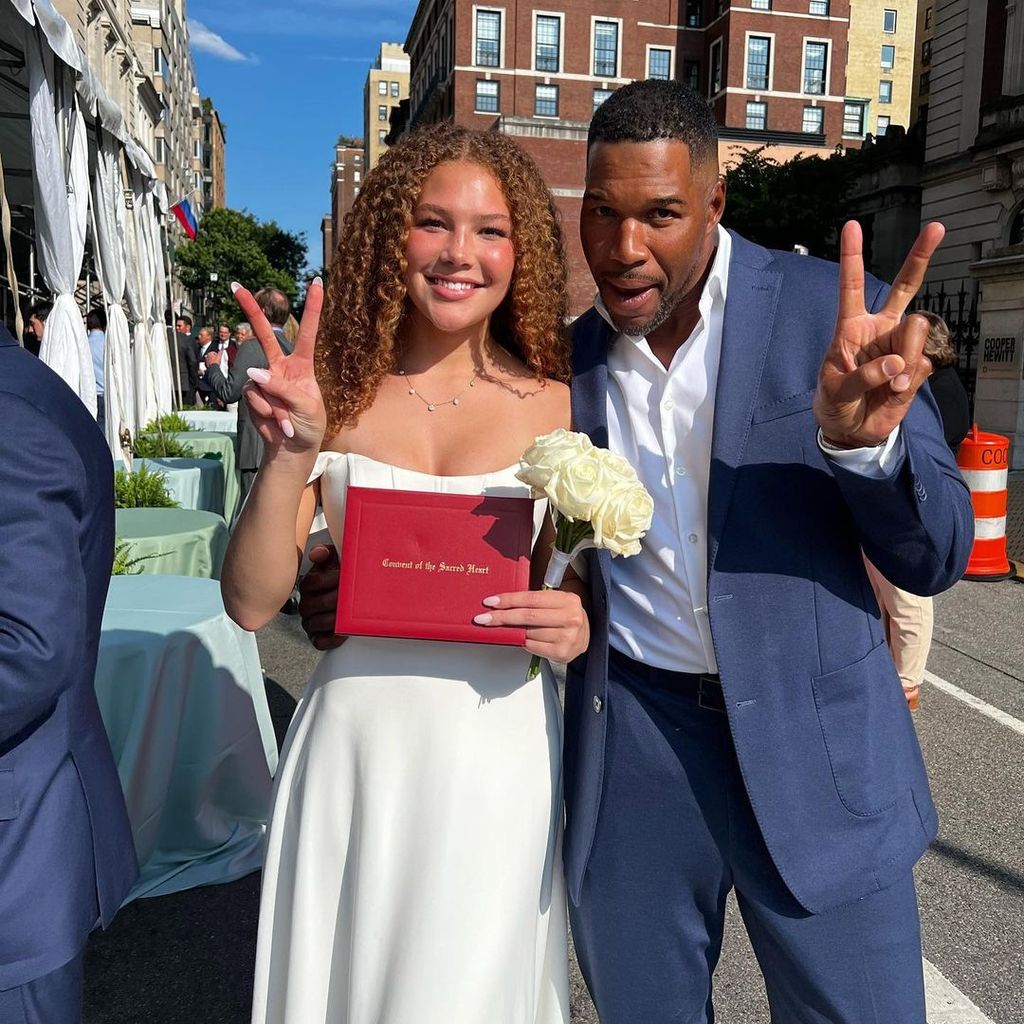 As with any budding star, the compliments flowed in. Fans and friends, captivated by her grace, called her 'so pretty.' Chelsea Gavin Lile, the make-up artist who worked magic on Isabella that day, reminisced: "Was amazing meeting you this day. Have a lovely time doing your make-up. Have a wonderful first year of college."
KBSwim, rooted in North Carolina, mirrors Isabella's fresh and vibrant style. Launched in 2017, designer Kenzie's creations reflect her artistic passion and cherished memories of growing up near the beach. Notably, these pieces are sustainable, crafted from pre and post-consumer waste, symbolizing a blend of style with responsibility.