The AEW Women's Division has been highly active in recent months. Hikaru Shida is a former Women's champion who returned to Dynamite two weeks ago. Shida's return saw her and the rest of the women's room team up against The Outcasts.
The Outcasts' Toni Storm and Ruby Soho were the opponents in her return. Unfortunately, they lost. She is back in action like she has never been away and is ready to take on the women's division again. She is better than before, and her new battle tattoos prove that.
Hikaru Shida revealed her new tattoo in a tweet. Comical Ace was shown with her back to the camera, angled so the tattoo would be visible on the upper back and shoulders.
#AEW #AEWDynamite #MAKAI pic.twitter.com/WH0E6zRywL

— HIKARU SHIDA 志田 光 (@shidahikaru) May 19, 2023
Hikaru Shida seems ready to fight. The only question is, where will her involvement in the current storyline against The Outcasts take her? Shida is better and back than ever, so fans will want to see her in the ring more.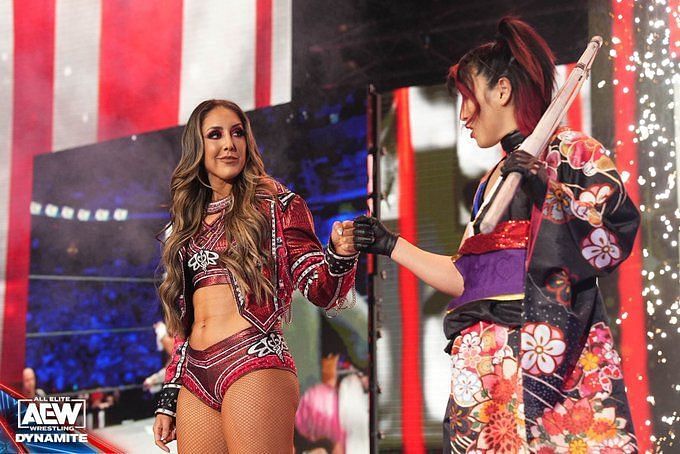 ---
What's next for Hikaru Shida, former AEW Women's champion?
Hikaru returned to AEW Dynamite a couple of weeks ago to stop The Outcasts from causing trouble and to side with other women in the locker room. After getting involved with The Outcasts' affairs, she is embroiled in a rivalry. In her first match after returning, she teamed up with Britt to face Toni Storm and Ruby Soho but unfortunately lost.
The feud between The Outcats and the rest of the division has not ended. In light of this, in what direction will Hikaru move? Will she help to defeat The Outcasts? Will she concentrate on her singles and take on the AEW Women's Champion Jamie Hayter, or will she go after the AEW Women's Champion Jamie Hayter to further her career?
What direction do you believe Shida should take? Tell us in the comments below.
Comment on and share this article