The Great North Air Ambulance logo was tattooed onto the back of a woman who had her life saved by this charity.
Sue Wilkinson (71), from Stockton in County Durham, suffered a cardiac event in 2021 after feeling unwell during a coffee date with friends.
The retired civil servant who had spent a week at the hospital wanted to celebrate being "brought to life".
Mrs Wilkinson, who still feels like a teenager, decided to get tattooed at a local parlour.
"I want to celebrate two years of having my life back," said she.
It was hilarious to walk into a tattoo shop with many young people and have them wonder who this old lady was with her walking sticks.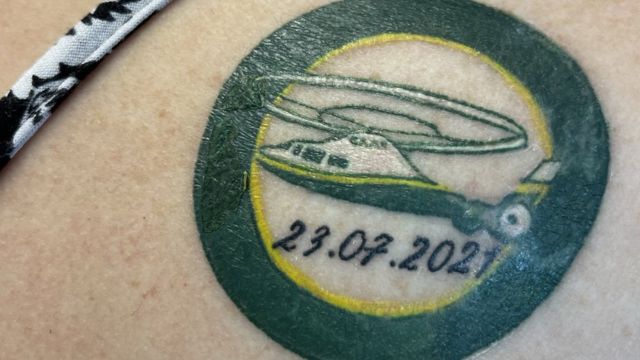 The air ambulance crew placed Mrs Wilkinson in a coma, and she spent six days at Middlesbrough's James Cook Hospital.
When she returned from a shopping excursion with friends, her condition rapidly deteriorated, and her heart stopped.
She initially felt unwell, but she tried to forget it.
"I'd told the girls that there was a lot of discomfort between my shoulder blades, but since we moan about pain all the time, it was left at that. We then wandered through Primark."
She has recovered completely and volunteers regularly at the Great North East Air Ambulance Service's base in Eaglescliffe.
She is locally known as the "corned beef pie woman" in recognition of her cooking. She keeps the team supplied with her homemade pies and sausage rolls.
She said, "I wake every morning happy because I am alive. That's all because of GNAAS."
Comment on and share this article.