Gil Morales proudly displays his love for old Crown school buses on his foreman.
Morales, a driver-instructor for Garden Grove Unified School District in Southern California, shared with School Transportation News the story behind his tattoo last month during Green Bus Summit at STN EXPO in Reno, Nevada.
He explained that he grew up in the school bus business, as his stepfather was a private school bus company mechanic. Morales recalled going to the bus garage with him during his summer breaks. When Morales was about 10 or 11 years old, the bus company owner said he would pay him $2 per bus to sweep the driver's compartment and clean the windows.
"That was lunch money, candy money," Morales said. "And by age 11 or 12, I knew the difference between a Cummins engine and a Detroit engine. I grew up groomed to be a bus driver and became a bus driver in 1999 right out of high school."
He explained he had recently been fired from another job and only had 20 cents. His brother, Odir Morales, was a school bus driver at the time and helped him obtain his CDL. Gil Morales started driving a school bus at 18, a position he held until 2019, when he became a school bus driving instructor.
"I've been doing this ever since," he said.
There is more to his story.
Morales began his school bus driving career with contractor Atlantic Express and worked there for about a year and a half. He then applied at Los Angeles Unified School District and was here for one week before he quit.
He and Odir decided to start their own school bus company, Express Enterprises, which they ran for 18 years. It was one of several Los Angeles Unified pre-approved contractors, he shared. Other contracts were with Alhambra Unified School District and numerous private and religious schools around Southern California.
"Everybody used to say, 'Oh, who's that?' 'Who's that company?' Because [our fleet] was all Crowns, and every Crown had chrome rims," he said, adding that people recognized their buses but never knew the operators that owned them.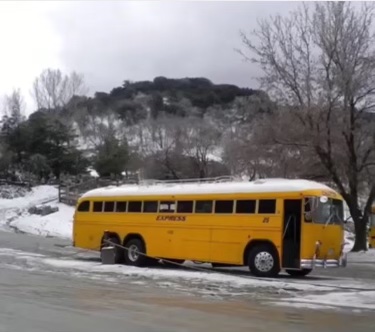 He added that Express Enterprises operated 13 buses. However, the new emission regulations on diesel engines and other laws led the brothers to close their business at the end of the school year in June 2013. Morales then found himself driving for Anaheim Union School District for three years. After transitioning to another district for two more years, he returned to Anaheim and received his driver training credentials.
As for his tattoo? Morales said he knew he wanted a Crown school bus once he was old enough to get one.
"I grew up in a Crown," he said, adding that Crowns served as his "summer day camp" as he spent all his summers there on the buses cleaning.
He recalled the day he had to watch the Crown bus he drove get retired to the scrap yard. He remembered that it was a 10-speed Cummins engine with an Alison transmission RTX.
"I had to let it go, and it was sad. Seeing it getting crushed was sad," he said.
Growing up in South Central Los Angeles, he said he would probably be dead or in jail if it were not for school buses. He recalled one time that he was banned from riding the bus while a student at Los Angeles Unified because "I was one of the bad kids on the bus. But look, now I'm an instructor, and I'm teaching people how to [drive]. It's a full circle."
"I never thought I would be doing this, and it's a different type of love," he shared. "I love this industry. Being an instructor, just seeing the joy in somebody getting their certificate, their license, and having a new line of work."
He observed that many new driver applicants think they cannot succeed. But he shares with them what his original driver trainer instilled in him.
"These are manmade machines," he recalled. "Humans and humanity can drive them. So, it doesn't matter how big they are, you can move it. That's what he told me, and I took it to heart, and I've been passing that message down.
"And it just hurts that our industry is so short on drivers. We're short on everything," he said.
Speaking of the Green Bus Summit, in particular, he said the day was overwhelming. He said growing up in the diesel era, but change is the nature of the beast.
"You have to move forward," he said, adding that Garden Grove has about ten electric buses, with another 25 on order. "Times change. … You have to evolve. Otherwise, you get left behind."
Regardless, he added he will continue to teach people how to safely drive school buses, no matter what they are fueled by.
Comment and share on this article: