SEATTLE, Wash., August 1, 2023. The complete entertainment lineup for the 2023 Seattle Tattoo Expo has been announced, featuring live music, burlesque, and the legendary Burleskaraoke alongside over 250 tattoo artists. Themed contests are held throughout the weekend for tattoos, such as Best Portrait, Funniest, Sleeve, Funniest, and a daily Best in Show award for tattoos initiated and completed during the expo.
The expo doesn't just feature top tattoo talent – you'll see extraordinary burlesque performances from some Seattle favorites, including Ruby Mimosa, Faggedy Randy, and more, plus live music performances from La Fonda, Future Tense, and Deejay Hershe. This year also brings the Seattle Tattoo Expo debut of BurlesKaraoke! Sing your heart out alongside award-winning burlesque performers and experience the thrill of improvisational performance art.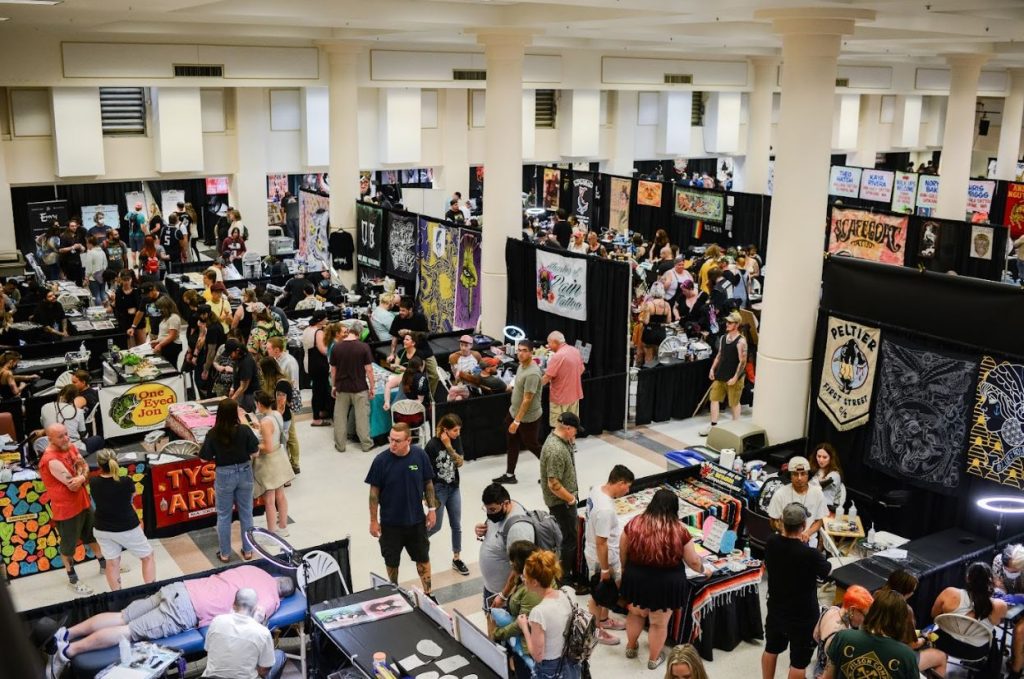 Seattle Tattoo Expo makes it possible for people of the region to access the best tattoo artists from around the world right in their backyard for one weekend only. Seattle Tattoo Expo is August 18-20, 2023 – tickets are on sale now at SeattleTattooExpo.com.
WHEN
August 18-20, 2023
Friday – 2:00 p.m. – 10:00 p.m.
Saturday – 12:00 p.m. – 10:00 p.m.
Sunday – 12:00 p.m. – 8:00 p.m.
WHERE
Seattle Center's Exhibition Hall
301 Mercer Street
Seattle, WA 98109
TICKETS
$30-$70 – ON SALE NOW
$30 – day pass (Friday, Saturday, or Sunday)
$70 – complete weekend pass (Friday-Sunday)
The Seattle Tattoo Expo lost Jeff Cornell of host shop Hidden Hand Tattoo earlier this year. In light of Jeff's passing, a portion of every ticket sold for this year's expo will support the Cornell family.
FEATURED TATTOO ARTISTS
Seattle Tattoo Expo is proud to feature the best of the best in local tattoo talent, as well as an array of traveling talent,t including Shawn Barber (Memoir Tattoo, Los Angeles); VyVyn Lazonga (Madame Lazonga's Tattoo, Seattle); Tony Hundahl (Rock of Ages Tattooing, Austin); and Big Gus (of the hit TV show Tattoo Nightmares and Collective Ink Gallery). For a complete look at the many artists to book with at Seattle Tattoo Expo, visit us here.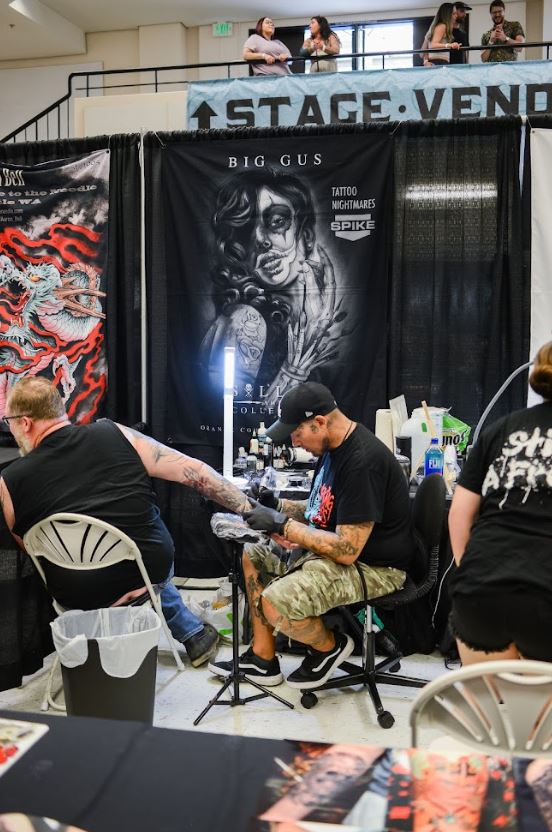 HOW TO BOOK A TATTOO ARTIST
Each artist at the Seattle Tattoo Expo books their event appointments. Some artists will be taking walk-up positions as well throughout the weekend. We recommend looking at our Artist page, and if there is an artist you are interested in booking with – reach out to the artist or shop directly to pre-book where possible.
BURLESKARAOKE
New to 2023 – you sing, they tease! Hosted by the incredible Ruby Mimosa, BurlesKaraoke is an interactive event that combines the fun of karaoke and the excitement of burlesque. Sing your heart out alongside award-winning burlesque performers and experience the thrill of improvisational performance art.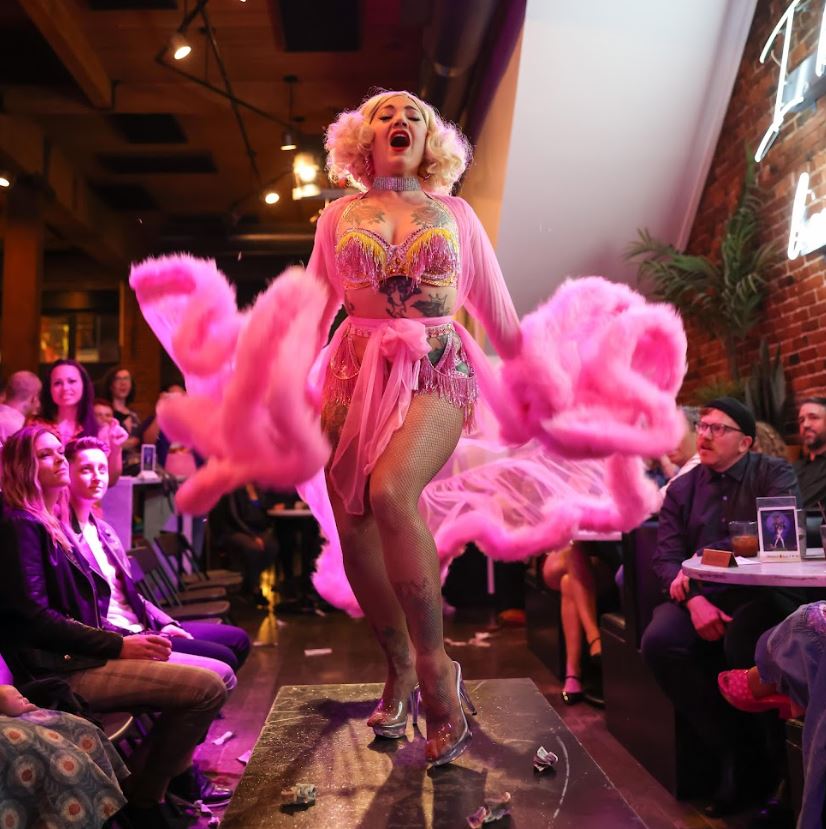 FEATURED LIVE MUSIC
Deejay Hershe: From Florida to Seattle, Deejay Hershe brings sunshine vibes. Grooving with a mix of lounge, soul, funk, and worldly beats, she'll make you move to the heart-thumping rhythms of house, hip-hop, afrobeat, ama piano, and disco. But her mission goes beyond the dance floor – she's here to honor marginalized voices and spread joy through the power of funky music. Join the celebration and let the rhythm of change move your soul!
Future Tense: Future Tense is a rock dance band from Fairfield and Litchfield Counties in their forty-third year. Future Tense has one self-produced recording of original songs entitled YBU and is currently in preproduction for its next original disc, Zen Lemonade Stand. The band most recently garnered the I-95 Best Local Band award for four years in a row and is poised for either world domination or a trip to Lourdes, France, whichever heals their rocking pneumonia and boogie-woogie flu.
La Fonda: La Fonda is an indie rock band from Seattle, fronted by Filipino-American Sisters Valerie and Veronica Topacio. Centering their songs around themes of sisterhood and navigating the chaos of adolescence, addiction, xenophobia, and gentrification, La Fonda creates sonically atmospheric, shoegaze-inspired tracks falling somewhere between dream-pop and alt-rock.
FEATURED BURLESQUE PERFORMERS
Ruby Mimosa: a unique mix of athleticism, dance, theatrics, and bubbly charm makes Ruby a Seattle treasure and beloved worldwide. She has been a highlighted performer in France, England, Portugal, Canada, China, and Australia.
Faggedy Randy: Burlesque Performer Of The Year 2020 – Seattle Spotlight Awards • Randy has been dazzling audiences for a decade. He combines a unique mixture of sexy-silly-stupid with over-the-top costuming to create a stunning, uniquely Faggedy experience.
Valerie Veils is an internationally renowned, award-winning burlesque performer who has dazzled crowds up and down the West Coast for over a decade. This tattooed tart brings you the trifecta of tease by commanding the stage with her graceful elegance, sultry satire, and pure animal magnetism, earning her the reputation of one of the best powerhouse performers.
Carson St. Clair: A native of the Emerald City, Carson St. Clair has been on stage almost her entire life. This multifaceted seductress brings over-the-top glamor to everything she does. Since graduating from Miss Indigo Blue's Academy of Burlesque in October of 2017, Carson has been entrancing audiences throughout the Pacific Northwest, including; Seattle's historic Pink Door, Moisture Festival, The Oregon Burlesque Festival, and The Seattle Erotic Arts Festival. She is also 1/5th of Seattle'sall-BIPOCC ensemble Dark Diamonds Burlesque.
Boom Boom L'Roux: Boom Boom L'Roux burst onto the Seattle burlesque and cabaret scenes. Making her mark as a powerhouse performer and producer, Boom Boom favors a classic approach to burlesque infused with her spicy flavor that melts hearts and captivates souls. Boom Boom has been heating stages of Seattle both on and behind the scenes, an active Independent Performer in such shows as The Pink Door, Sunday Night Shuga Shaq, Bechtel Test Burlesque (Seattle and Oregon), Orchestra La'pow.
INGA: INGA (pronouns she/they) is an internationally renowned queer femme burlesque star, voted one of the Top 3 Burlesque Performers in the world (21stcenturyburlesque.com). Famous for her polished style and charismatic, innovative performances, INGA's work has appeared in several books, films, and documentaries, including Strip|Tease by Tigz Rice, From Sh ! show to Afterglow by Ariel Meadow Stallings, A Wink And A Smile, and the award-winning web series Capitol Hill.
J. Von Stratton: Seattle's sweetheart and an icon in the arts community. She has been performing for nearly a decade and is an original member of the Burlesque super troupe, The Atomic Bombshells. Her unique blend of theatrics, dance, camp, and kitsch has made her a Seattle favorite and taken her across the globe. She has been a highlighted performer in Switzerland, Finland, Denmark, Germany, Canada, Portugal, China, and Australia.
P. No Noire: P. No Noire is one-third of the production team known as BawdySuit. His skills in vocal music, along with training in gymnastics, cheerleading, acrobatics, and honing the art of the tease, have shaped him to be an energetic and commanding force on stage—the Winner of Best Boylesque, Mr. Exotic World 2022, at the Burlesque Hall of Fame Weekender.
Moscato Sky: The Them Fatale of Burlesque, Moscato Sky is aLatinxx, trans-femme non-binary, classically trained award-winning dancer, educator, and choreographer based out of Seattle, W, A where they earned a BFA in Dance from Cornish College of the Arts. This tempting tart is one-fourth of world-renowned burlesque sensations and Burlesque Hall of Fame's 2019 Best Large Group, Mod Carousel.
Comment and share on this article: