The gentle hum of tattoo machines reverberated through the convention room, marking the culmination of a year-long plan at Cadillac Jack's last week. David Parker and Colin Greenfield, employees at Cadillac Jack's, brought to life the first-ever Tattoo Convention in Deadwood, showcasing the artistry of local and visiting tattoo professionals.
This groundbreaking event took shape thanks to the collaborative efforts of Parker, Greenfield, and local tattoo artists Cherokee Chuck from Rosini Gypsy Tattooing in Sturgis and Samson Aker of Convicted Designs. The convention was a testament to the thriving tattooing community, united in their passion for body art.
Colin Greenfield, the marketing manager for Cadillac Jack's, expressed gratitude for the support received from local tattoo artists, stating, "We had limited knowledge on how to start a tattoo convention, but we reached out to several local tattoo artists, and they were very helpful in getting this going and launching the idea."
The weather aligned perfectly with the occasion, creating a beautiful backdrop for the artistic endeavors unfolding within the Cadillac Jack's Gaming Resort convention hall. Local Sturgis legend Cherokee Chuck, a seasoned tattoo artist with 30 years of experience, took a moment to share his thoughts with the Rapid City Journal.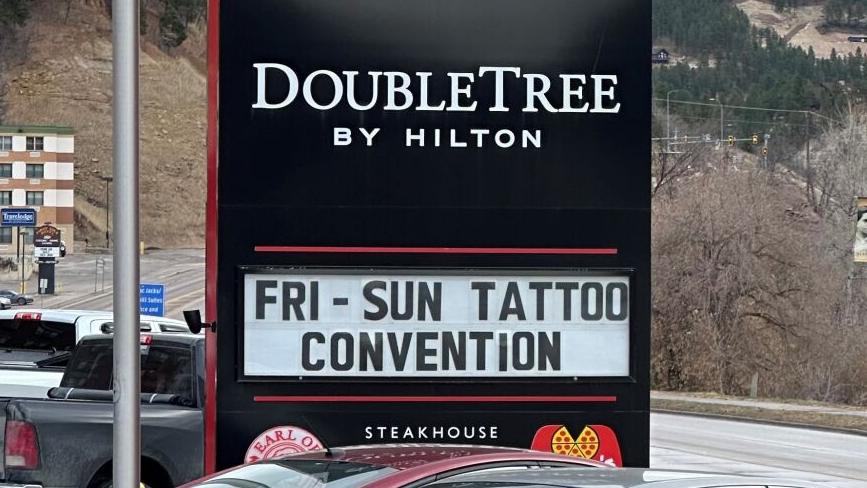 "I love this. It was about time this came to Deadwood. It's groundbreaking," Chuck said. He reflected on the event's potential and added, "You can't help but wonder what it might be like 15 years from now."
Harley James and Kristen Valencia attended the convention to explore ideas and pricing. Carlos Lemon, a tattoo artist who traveled from San Antonio, engaged with attendees, providing insights and inspiration. Jazzy Jeff, a tattoo artist from Alabama with 43 years of experience, expressed enthusiasm about the event, having previously worked at the Sturgis Rally for 36 years.
Harley James and Kristen Valencia talk with tattoo artist Carlos Lemon. Chuck Thompson
The convention attracted visitors like Sean Zillmer and Nikki Jones, who left with valuable information and ideas for their next tattoo, courtesy of the experienced artist Carlos Lemon.
Originally planned closer to rally time, scheduling conflicts led to the event's rescheduling. Colin Greenfield acknowledged the professionalism of the participating artists, emphasizing their eagerness to collaborate. He hinted at the anticipation for the next year, stating, "We're already looking forward to next year."
As the inaugural Tattoo Convention in Deadwood unfolded successfully, plans for next year's event are underway, with dates yet to be determined. The convention has not only celebrated the artistry of tattooing but has also laid the foundation for a growing community of ink enthusiasts in Deadwood.