Many tattoo lovers will use a coverup to hide mistakes, like a poorly done tattoo, or conceal an ex's name. This is one of two ways to remove an unwanted tattoo. The other method is laser removal. Here are some ideas for tattoo coverups that you can use to conceal the mistakes made during your youth.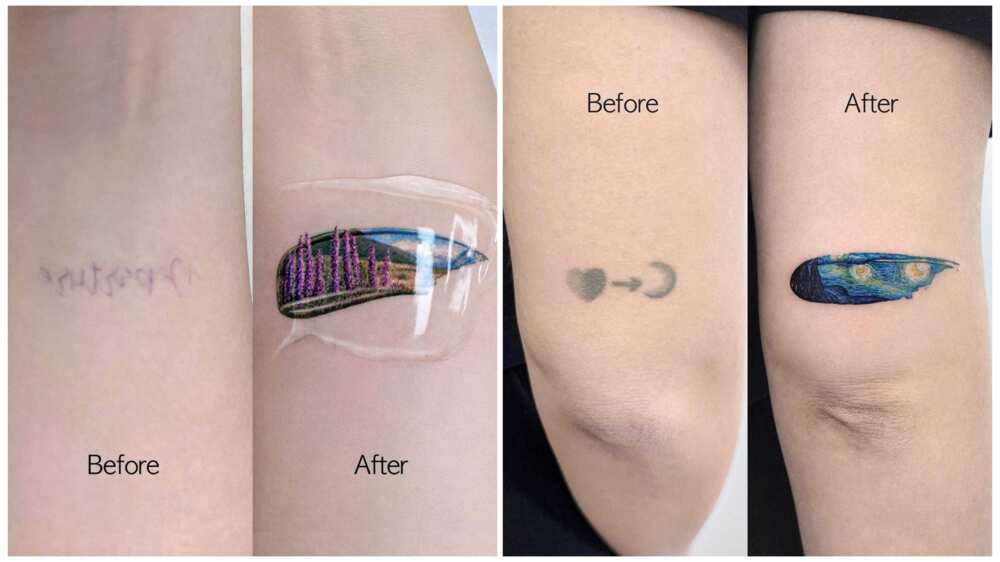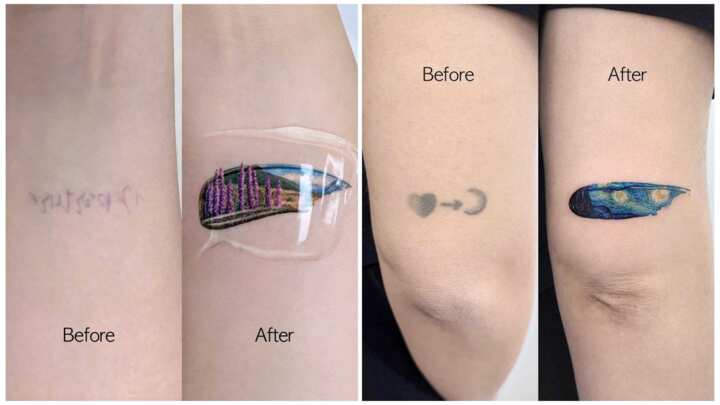 Tattoos can be hard to remove after they have been applied. A tattoo coverup is a great way to hide an unwanted or old design. You should find an artist who will integrate the hard lines from the old tattoo into the new design so it looks like the old tattoo never existed.
Cover up your tattoos with these 50 coverup ideas.
Here are some tattoo coverups to inspire you if you want to modify an unwanted tattoo.
1. Coverup tattoo with wings and hearts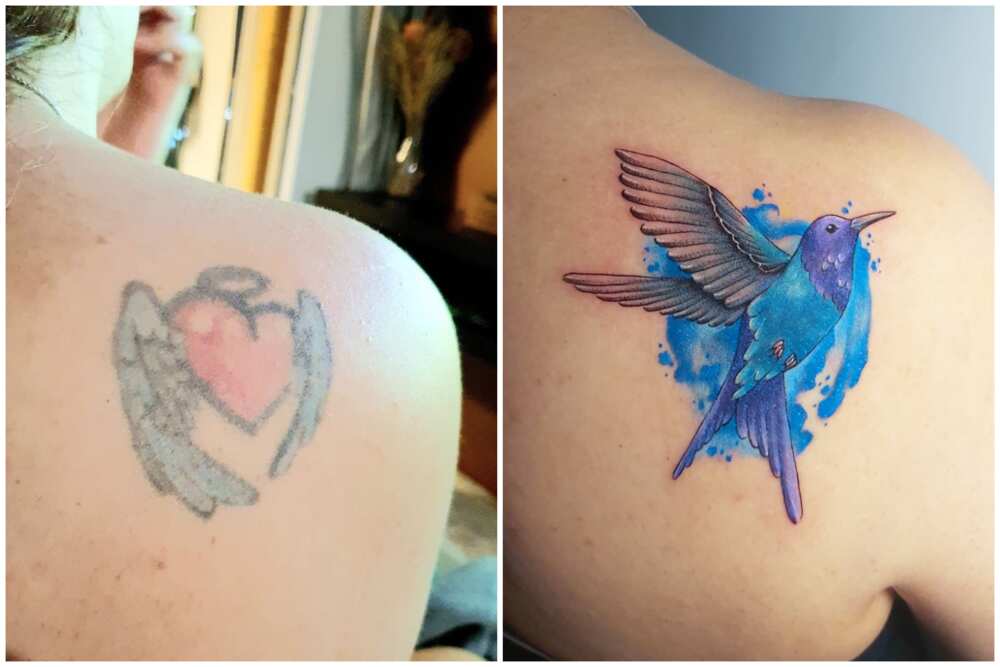 The old design is a two-winged heart with a central hub. The faded colors have made it unidentifiable. The artist used the blue wings as a background and topped it with a beautiful, colorful bird.
2. Butterfly tattoo coverup
https://www.instagram.com/p/CZeo7s0BPgw/
Most female tattoos combine flowers and butterflies. The shoulder tattoo, in this case, is different. It started as a single butterfly but faded with time. However, it has been redesigned into a flower with a butterfly.
Three upper arm coverup ideas
https://www.instagram.com/p/CQG38bBpol3
Using the technique above, you can keep the parts of the design you love but redesign those you don't. It's a significant improvement, adding more depth to your design.
4. Lion tattoo cover-up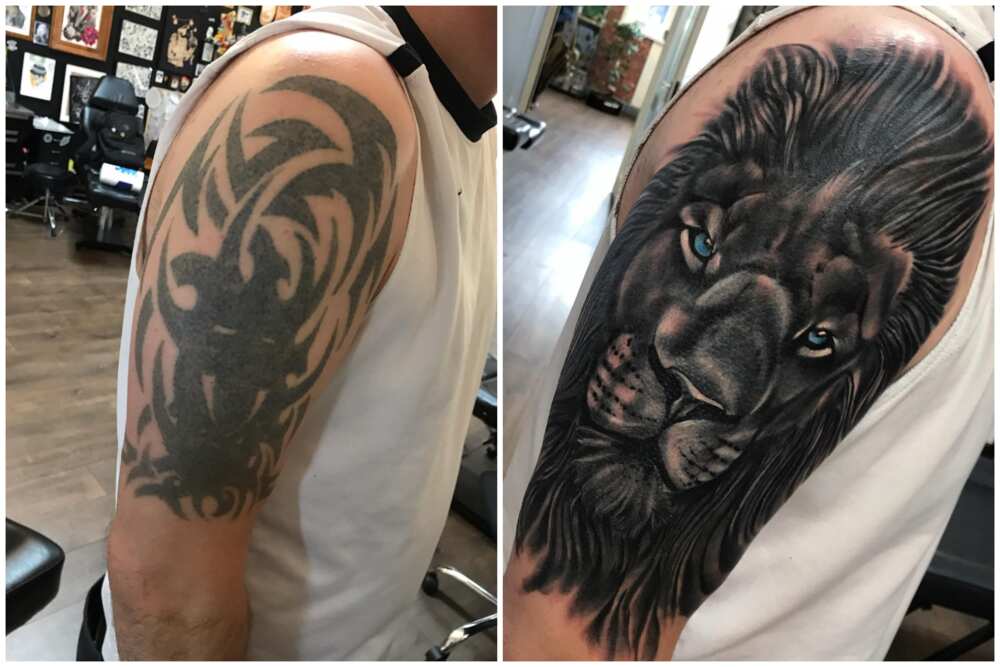 Another way to cover up a tattoo is by using a larger one. Most often, the designs that cover up the tattoos take more room than the original designs. The original plan was a small image on the arm, but it was covered to create a large portrait of an enormous lion.
5. Ouroboros to wreath coverup
https://www.instagram.com/p/CZa6G28Lpia
Ouroboros, an ancient symbol of unity and infinity, is a snake that eats its tail. You can cover this original design by making it into a beautiful ring.
6. Leaves coverup for the shoulder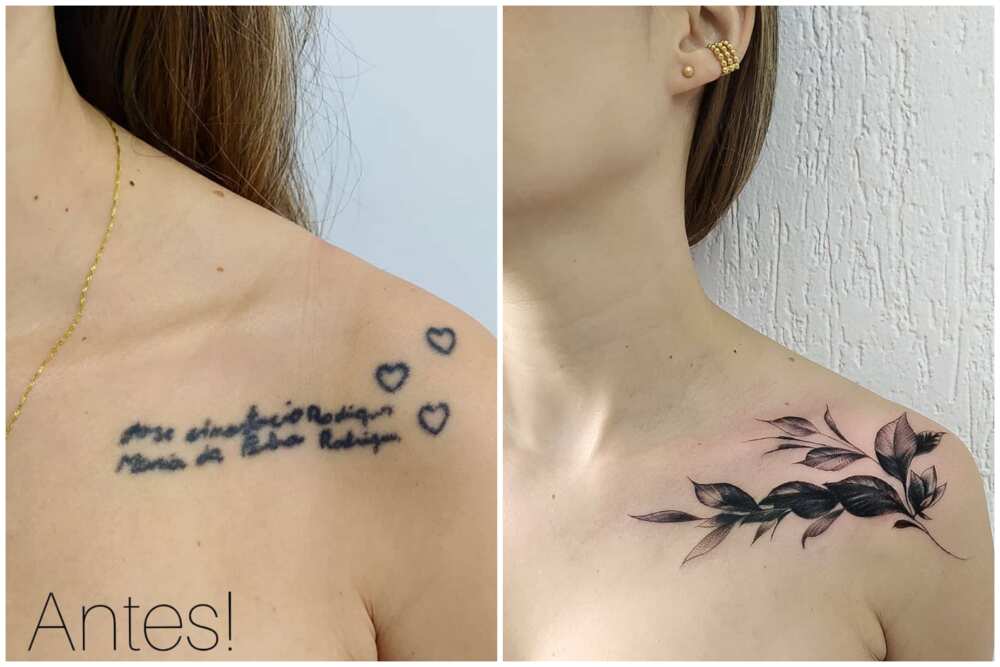 This is an excellent coverup tattoo idea for women, especially for those who like to ink their boyfriends' names on their bodies. The original design includes words and love heart symbols. The artist has covered the original image with leaves.
7. Beautiful landscape cover-up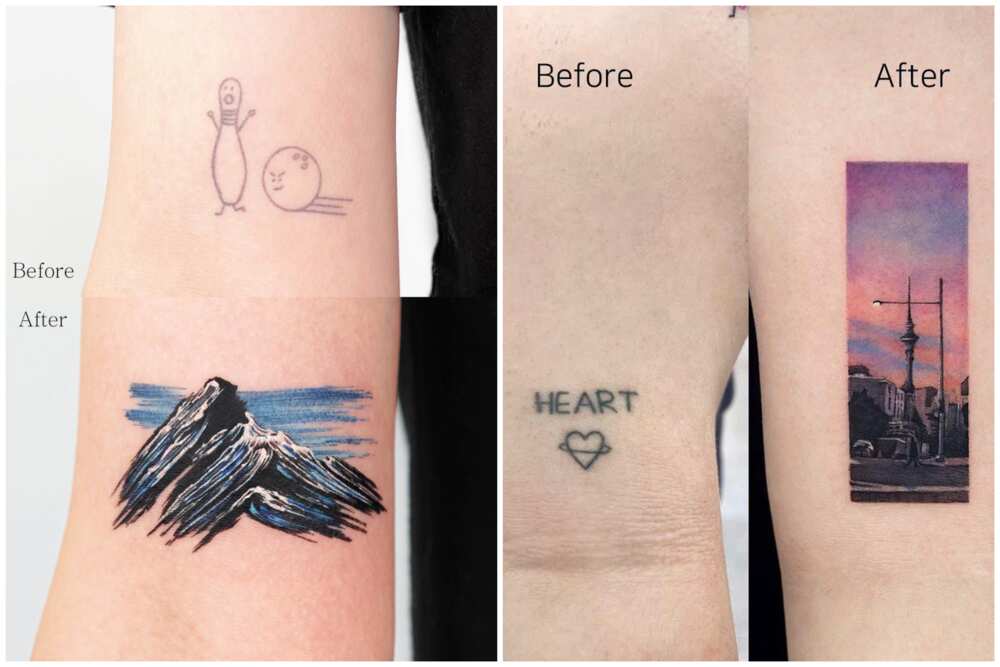 The landscape is an excellent coverup, particularly for those inspired by nature. Although it might not be what you first think of when considering a cover-up tattoo, it could work, depending on your design preference.
8. Stars tattoo retouch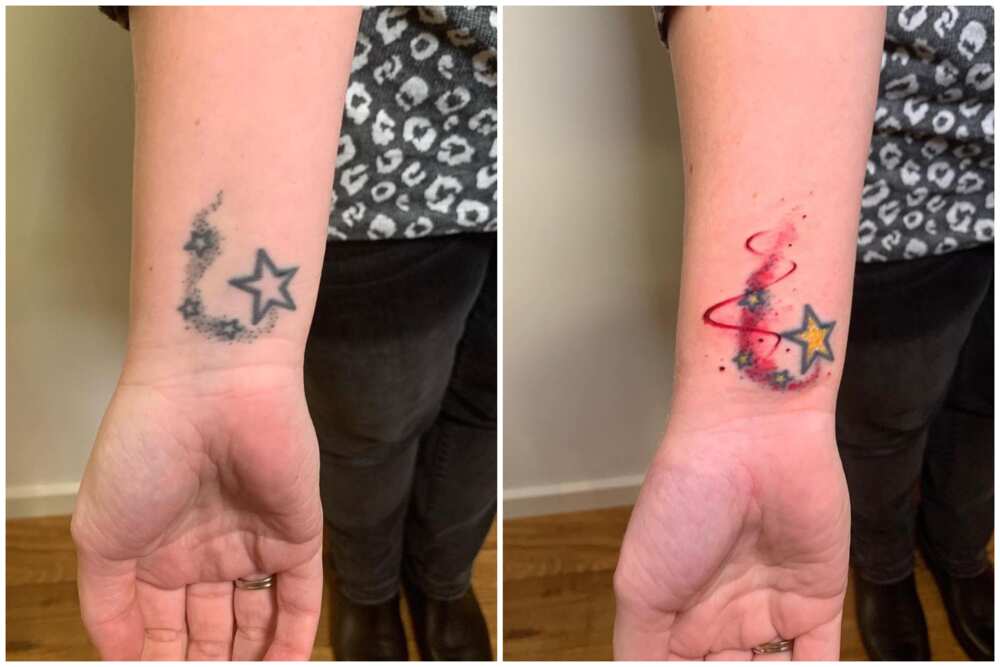 This tiny wrist tattoo shows perfectly how a few small changes can make a big difference in a design. The artist changed the design by adding a red color and a curvy curve.
9. Quote the art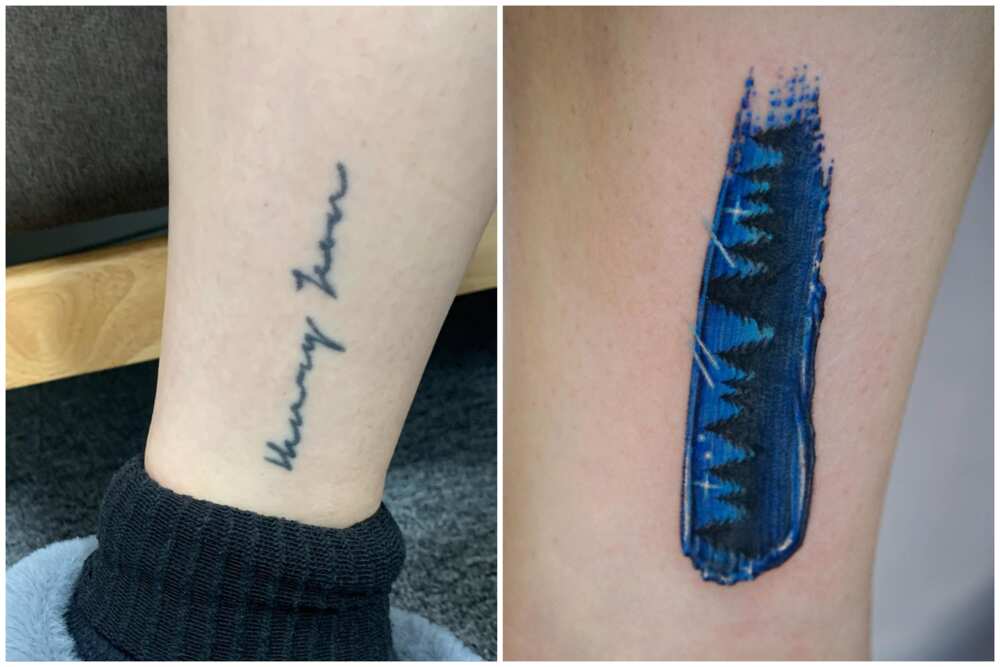 Quote tattoos can be significant initially, but you may grow out of them with time. Your artist can use a treeline under a starry sky to make the design look artistic.
10. Beautiful cover-up tattoo on the abdomen with flowers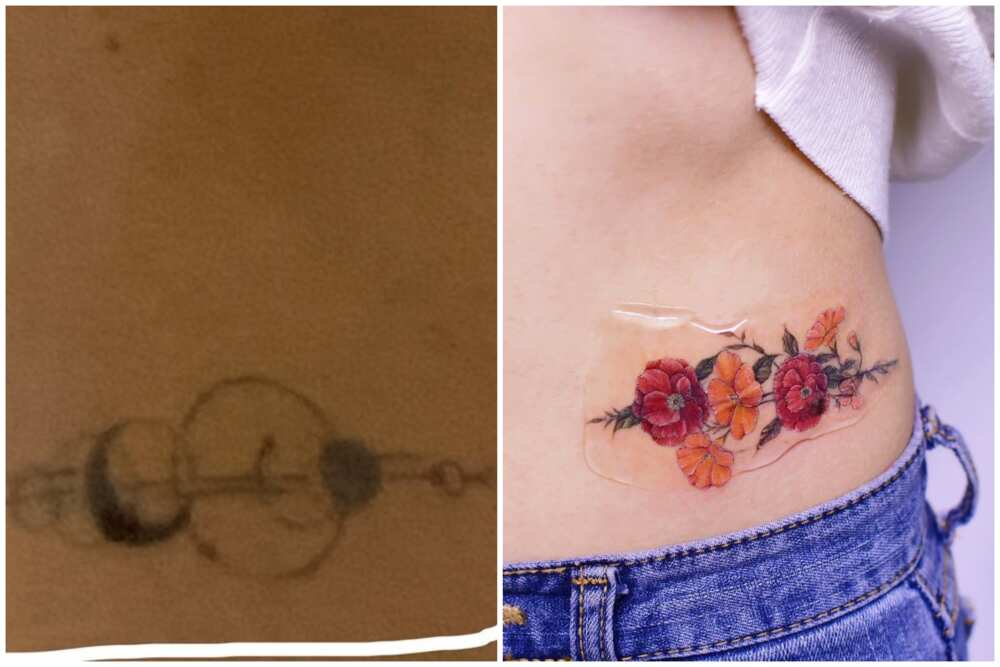 Flowers are often regarded as one of the best tattoo cover-up ideas. A talented artist can use them to create a fantastic design that effectively covers any existing work.
11. Small wrist coverup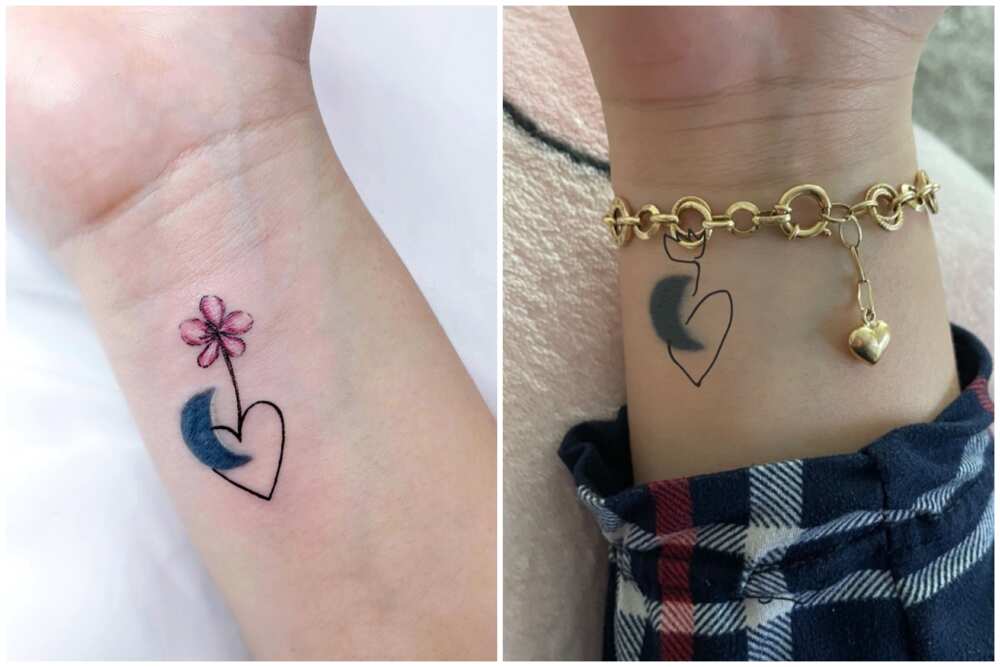 Some artists like to use the previous design when creating a new piece. In this image, for example, the fading colors of the moon are used as the background to the new format.
12. Coverup arm in pear and grapes
https://www.instagram.com/p/CV-QpHSvO-O
Coverup tattoos are similar to old ones, with only a tiny difference. It's possible that you still like a part of your old tattoo. This could be the design, the color, or the style. You can use the grape design above to create a new piece on top of an old tattoo.
13. Colourful full-sleeve tattoo coverup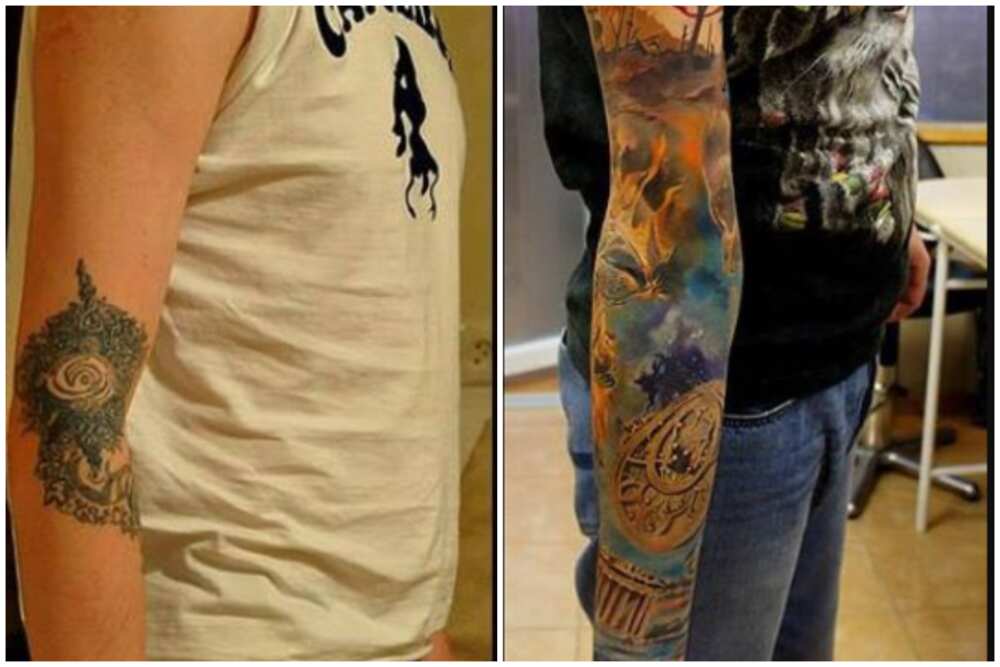 Some people like to cover their entire sleeves with tattoos. The old tattoo inked on the middle arm was at the elbow. Artists replaced it with a whole sleeve design to make it look beautiful.
14. Small to Large Wrist Coverup
https://www.instagram.com/p/CQLMdo1sYjG
The old wrist tattoo above was relatively small. Coverups have been applied along the forearm to cover the ink and create a detailed design.
15. Letter tattoos into landscapes
https://www.instagram.com/p/CVxgd5Cp6Nw
If you're still looking for coverup tattoos, consider landscape tattoos. It comprises mountains and trees to give the design a more natural appearance.
16. Footprints on glassware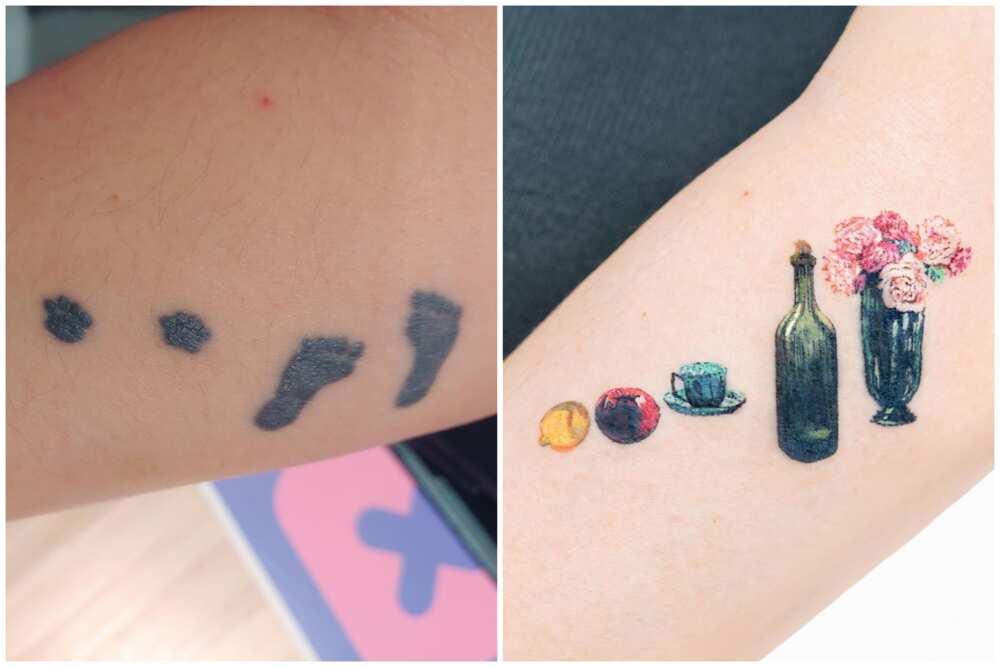 Tattoo artists can use a wide range of images, including glassware, to create captivating designs that hide existing ink perfectly, as in the picture above.
17. Tiger tattoo coverup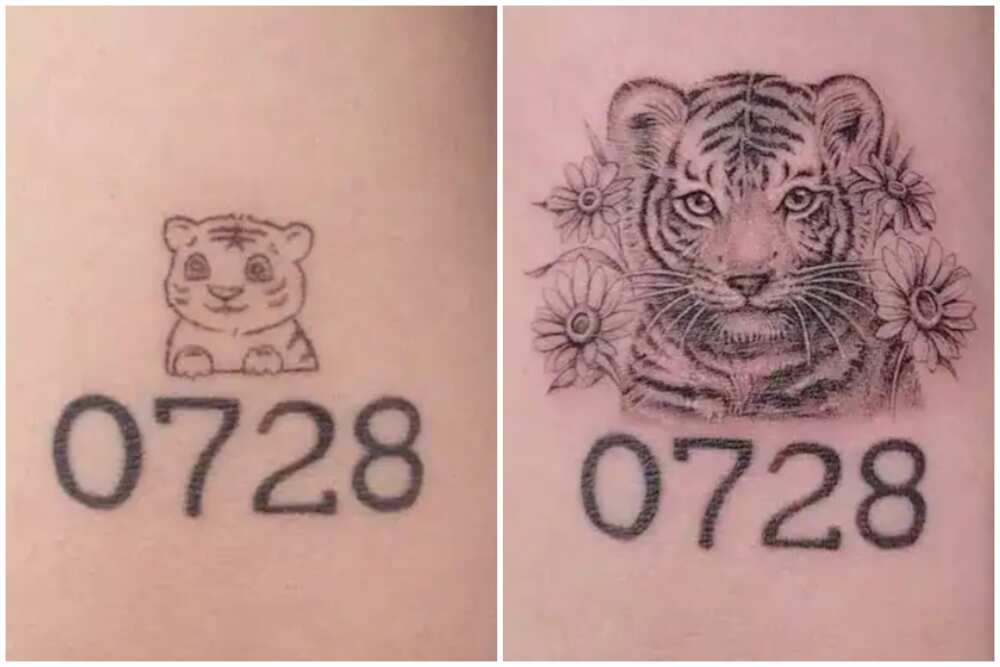 Tigers have always been an essential source of inspiration to tattoo designers. In the picture above, an infant tiger is transformed into a full-grown one.
18. Ex-name tattoo coverup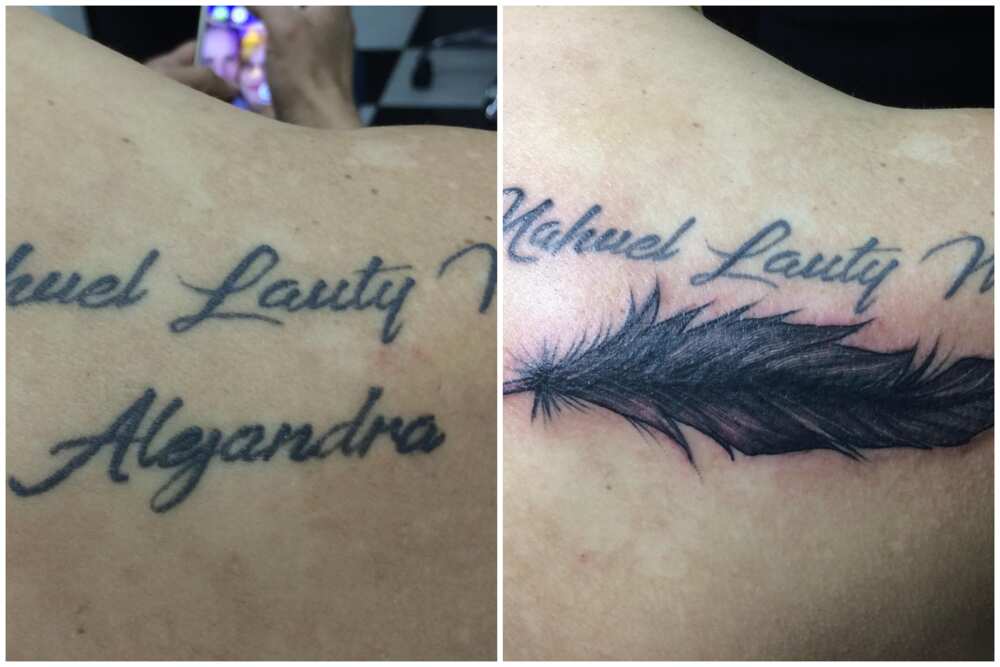 You can choose to remove your old name from the design by having a feather tattoo with part of its wings flapping.
19. Cleverly concealing numbers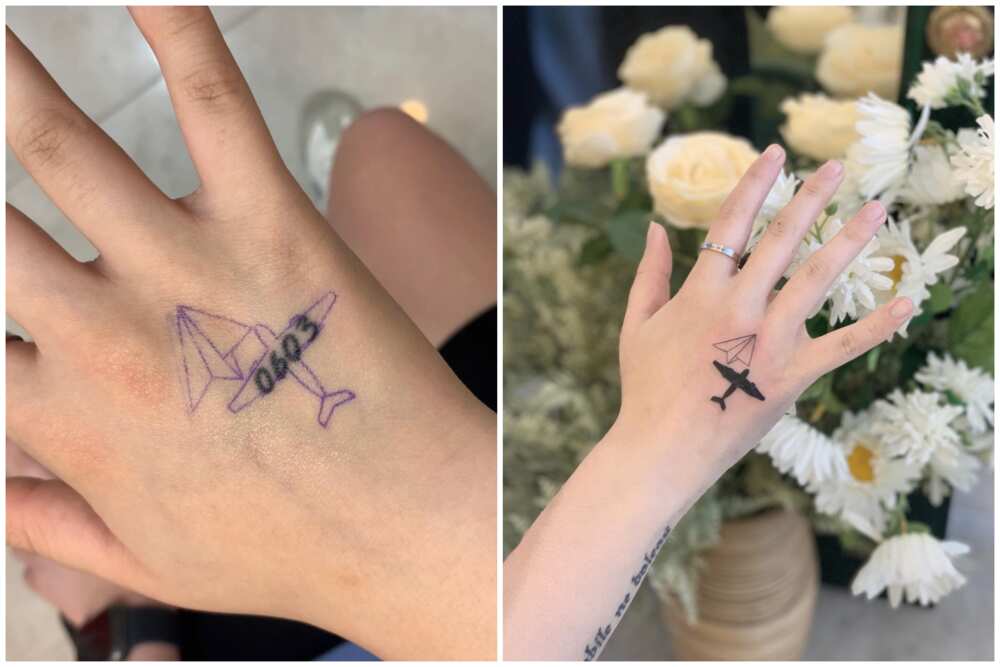 The artist created a unique design by shading the previous plan to cover the numbers. It's hard to see what was underneath the detailed shading.
20. Diamond Coverup
https://www.instagram.com/p/BWOuTAdg0uF/
Diamonds are a great way to cover up a faded or old tattoo. As they symbolize strength, some people cover up tattoos after a breakup.
You can find many ideas to cover up your tattoos in the list above. Choose one or more, depending on what you prefer.
Harry Potter tattoos can be created using many different symbols and designs.
Share or comment on this article