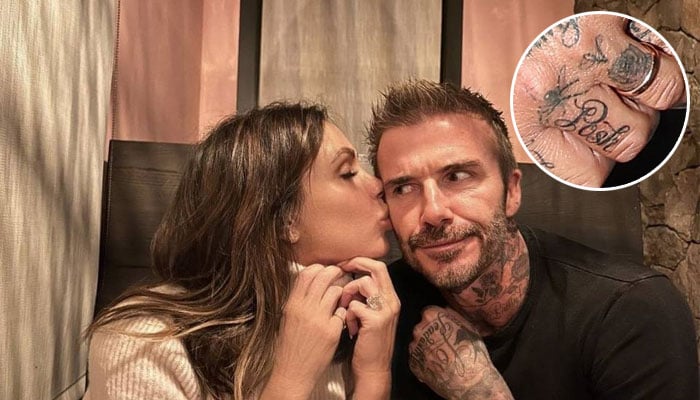 David Beckham combined his love for body art and his family in the newest addition to his enormous ink collection.
The ex-footballer, who already has 60 tattoos, inked another one as a tribute to his wife of 24 years, Victoria Beckham.
The subtle tattoo reads the word 'Posh,' a nod to the ex-Spice girl's nickname, inscribed in a fancy font across David's left middle finger, right next to his wedding-band-adorned ring finger.
The power couple's youngest son, Cruz Beckham, mirrored his father's gesture to the former girl group sensation. Cruz chose to get his mother's iconic epithet inscribed across his left arm.
The father-son duo got their newest inks at the Shamrock Social Club in West Hollywood, California.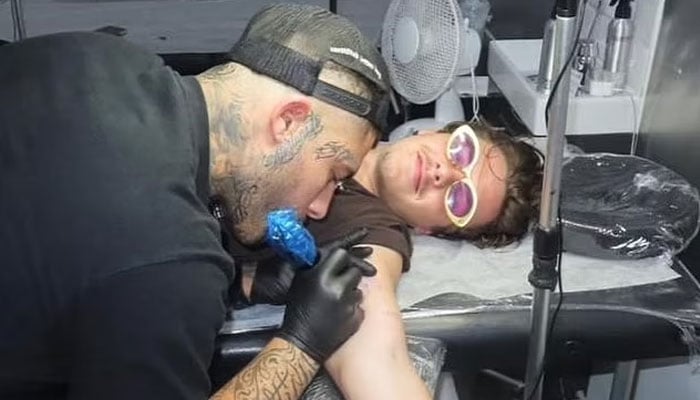 The former national team captain, 48, already had 60 tattoos, including another 'Posh' tattoo, many of which are dedicated to his family, especially his wife Victoria, with whom he shares four children,
"I've just had 'Posh' done… any of the tattoos I've got are of the family," he told The Sun about his latest ink tribute to Victoria, 49, with whom he shares four children: sons Brooklyn Joseph, 24, Romeo James, 21, and Cruz David, 18, and daughter Harper, 12.
His other tattoos dedicated to his fashion designer wife include the number '99' (the year they got married) on his pinky, 'I Love You' on his neck, 'Victoria' on his left arm and right hand, and the Lain-inspired phrase 'Ut Amem Et Foveam,' translated to 'So that I love and cherish,' right below Victoria's name on his left arm.
Becks also have a hilariously misspelled, sweet tattoo of Victoria's name in Hindi script.
Among the loving father's countless other family-dedicated tattoos is the acronym DVBRCH, his family's first initials.
Victoria loves these gestures, even proudly tweeting pictures of David's family-oriented tattoos.