After he inked a portrait of his wife on his arm during a chat-show appearance, Posh and Becks' eldest son has been ridiculed online for his new tattoo.
"He actually has an opportunity to try and create significant impact and even change there in Qatar, so I hope he uses it."
Brooklyn Beckham, a celebrity offspring, is getting ridiculed online because he has a new tattoo of his wife Nicola Peltz on one arm.
Beckham, the son of Victoria and David Beckham – proudly showed off his new ink in a recent appearance on the Jennifer Hudson Show.
Beckham pulled out his beige sweater and revealed his latest tattoo. The portrait of Peltz occupies the majority of his upper arms.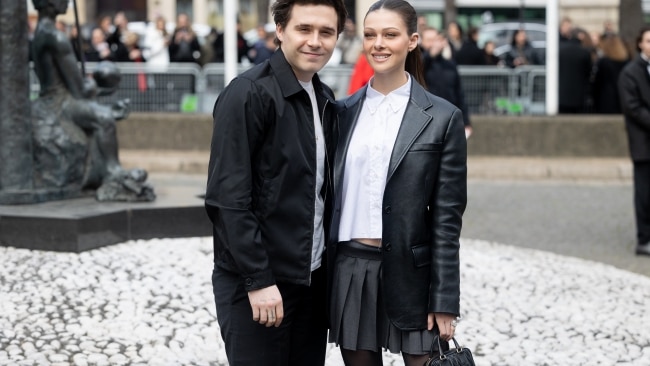 "That is beautiful!" Hudson exclaimed when Beckham took off his jumper to reveal the tattoo.
The huge depiction of Peltz is nestled above a tattoo of a detailed anchor bearing the word "DAD" and another of song lyrics from the tune the actress walked down the aisle to.
The internet quickly jumped on the less-than-flattering tattoo, with a flurry of Twitter users commenting on the poor quality of the multi-millionaire's new ink.
brooklyn beckham's tattoo of nicola peltz…speechless pic.twitter.com/WexvgqXEMs

— LIL BITCH (@bitch_rights) March 23, 2023
"Speechless," one Twitter user wrote.
"The quality only a $1.5 billion dollar inheritance can buy."
Another commented that the tattoo was giving "Napoleon Dynamite drawing Trisha vibes".
This where Brooklyn Beckham get his tattoos I bet pic.twitter.com/9eeXGIXs1c

— Meech (@MediumSizeMeech) March 26, 2023
The 24-year-old has 80-100 tattoos. 70 of them he claims are dedicated to his heiress wife.
He has his wedding vows on his bicep, a love letter on his back and Peltz's eyes on the back of his neck.
The ceremony, which lasted three days and cost $AUD26 million, was performed by the couple.
It's not the first time Beckham has been taken to task over his style choices.
Fashion writer Meecham Meriweather questioned the celebrity spawn in a Twitter post in March, asking how Beckham could have "arguably two of the most fashionable parents in celeb culture" and not know how to dress well.
"He buttons the second button on a double breasted suit, pants fallin all over his shoes, and looks… like that," Meriweather wrote.
Comment or share this article