How this tattoo artist is creating in the tattoo boy's club.
Lorri "Lady L" Thomas has been tattooing for nearly 20 years, and the last few years of her career have been centered around creating safe spaces for women who look like her.
In 2015, Thomas founded Ladies of Ink. It is a nationwide group of a Black female tattoo artist who challenges the status quo. Thomas's goal was to have a space where Black women could not only connect to help navigate the male-dominated industry but to also make a comfortable space for female tattoo clients. Thomas was often the only Black woman in tattoo shops and one of very few at conventions for many years. He wanted to change that.
"The biggest part in creating Ladies of Ink was to represent the underrepresented," says Thomas. "To let people know that we're out here and we're just as good — if not better — and to provide a safe space for women to talk about what's going on. Everybody doesn't have people they can reach out and talk to about how things work. I'm mentoring some of these girls because they're coming to me like 'the person who is supposed to be showing me the ropes are fondling me,' and they're taking it as 'this is what I have to go through to get taught,' and it's not."
Bree Sinclair was among the artists present at the initial formation of Ladies of Ink. Thomas was her mentor, Krissy The Butcher. She was an apprentice back then and says that much of what she learned helped to make her the artist she is today.
"With Ladies of Ink, I do believe we were able to stick together and we all offer individual things that are very unique," she says. "It's beautiful to see so many Black people that are women, tattooing in a fucking convention space where we're not even welcome — and we take up so much, that they can't help but notice us."
Before becoming Lady L, she was a young mom trying to figure out her life. Thomas is the youngest of her siblings. She says she was creative and imaginative from a young age. She says that while other children were creating stick figures, she was drawing the world around them.
Thomas' parents took her to art classes as a child. She then went on to study visual arts at the Detroit School of Arts in high school. She enrolled in Detroit's College of Creative Studies, but that didn't last very long.
"It was depressing, I felt so overwhelmed and intimidated at CCS," she says. "We had all of these people from different countries and backgrounds, and I came from a Detroit public school that didn't have the tools we needed to create things, we worked with what we had. I was intimidated because I didn't know how to work Photoshop. I took a terrible typography class. I went to a high school that allowed three computers per person. These kids came with skills like jewelry-making and glassblowing and I was just like 'What the hell?'"
Thomas continued to draw and create despite the intimidation and frustration of going to design school. At the age of 19, Thomas got her first tattoo. It was on her lower right back. Although it was a design that she had created herself, she didn't think twice about becoming an artist. It wasn't until she went to a tattoo party on Detroit's Eastside that she began to see it as something a little more.
Thomas claims that while the tattoo artist could draw a lot, she was very skilled at drawing lines. She quickly sketched the tattoo designs for her friend and then a few others at her party.
"As I was drawing my tattoo, other people came up to me like 'Hey, can you draw mine?' and the tattoo artists asked me if I thought tattooing was something I would be interested in learning," Thomas says. "At the time I was working three jobs, my daughter just turned one, and the money he was making at the party was influencing me. He said he was going to teach me but didn't. It was an attempt to pursue me. But I was interested in tattooing and started looking for an apprenticeship."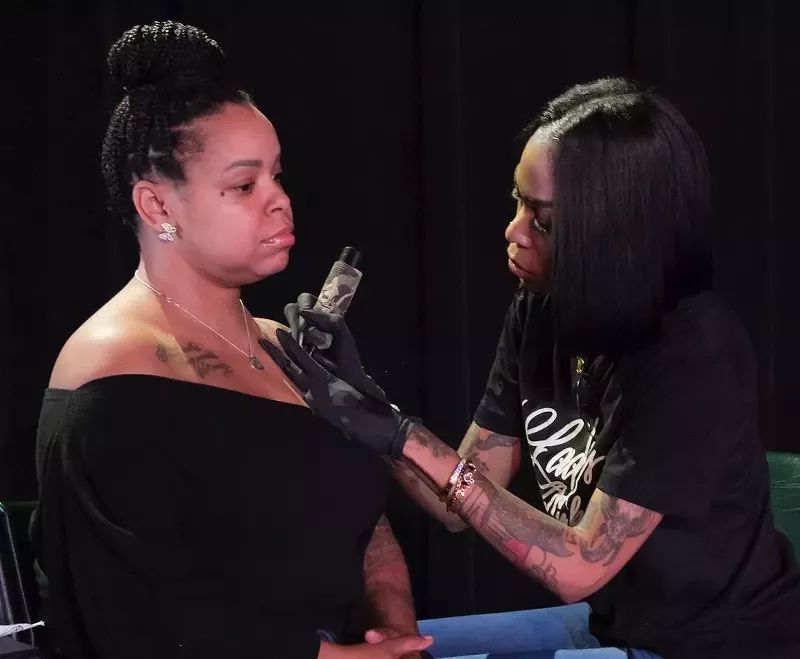 It was not easy to find a suitable apprenticeship. Some offered to teach her tattooing, while others turned her down due to her lack of experience. The search discouraged Thomas for a while, but it didn't derail her. After meeting an artist to have work done on her new tattoos, she found a way to make it work. He couldn't offer her a formal apprenticeship, but she used their sessions to learn as much as she could about tattooing.
"Every time I got a tattoo, he would teach me something, like how to set up the machine and things like that," she says. "He ended up selling me some of his old tattoo supplies, and he told me you can practice on pig ears, grapefruit, some types of chicken, and oranges. It seemed so simple once I had the machine set up. However, it became difficult for me to get it to work. You can't just draw and think because you know how to draw that you know how to tattoo. You have to learn the machine, and I had to take my time."
Thomas was able to get used to the machine and began doing small tattoos from her home. She started to get noticed and built a solid clientele. She began to rent a room in the back of a salon on Wayne State University's campus, adding the university's students to her roster.
A free concert at the university featuring the rap-rock group Gym Class Heroes was the moment that made all of this possible. While leaving the shop, Thomas had a chance conversation with the group's frontman Travie McCoy, which led to her getting her first celebrity client — Tyga.
"Travie was telling me how he used to be a tattoo artist before he was in a band, and wanted to see my work," she says. "He was like, 'I think my cousin would probably get some tattoos from you,' and went on his tour bus and grabs Tyga off the bus. He looked at my portfolio and decided that I did some pretty good work. I ended up doing some work on his arm, some fillers, and I posted that picture online, and that's really what put me on the map."
While that picture helped Thomas get the attention of potential clients, it also got the attention of WSU, which didn't like the fact Thomas was tattooing on campus and asked her to leave. Thomas was able to return to tattooing in her own home after finding a rental space at another salon. However, that was short-lived because a nearby tattoo parlor reported Thomas after they learned she worked in a hair salon. She ended up working at the same shop that reported her for a few years until she couldn't handle the conditions anymore.
"It was great until it wasn't," she says. "They didn't care about the art, they only cared about the money. It got to a point where we're getting eviction notices. One day I came to the shop and the lights and gas were out, and there was a gas generator inside, and it just smelled like gas — I made that my last day. Jason Phillips, who owns the shop I work at now, had just finished painting a mural and took the money he made and bought a building, and was like 'We're out.'"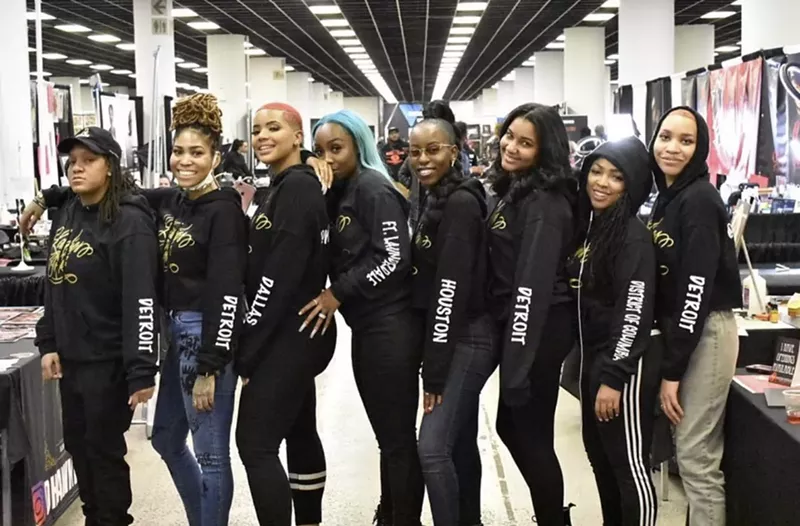 It was eight years ago, and that was the start of Detroit Ink Spot. Thomas is still employed there today. Phillips claims that Thomas is talented and cares deeply for her clients.
"She's a social butterfly, a real people person," Phillips says. "She's a very talented tattoo artist, who caters to her clients. She is professional and puts her best foot forward. She's a real joy to have in the shop. She's an advocate for equal rights for women in this industry but still feels comfortable working with me and the other men in this shop. That means we're doing something right here, and it's great to have her."
Although she says she's been contacted to be on a popular reality TV series or two about tattoo artists and even shot a pilot for a show of her own, reality TV in the way that we know it isn't in the cards for Thomas. However, the future for the 39-year-old artist is bright and full of potential.
She hopes to open a Black woman-led Ladies of Ink store shortly. She will reduce the amount of work she does and continue to mentor newer tattoo artists.
"It's not just about me, it's about teaching people what you learned," she says. "It wasn't that easy for me, and now that I have the resources to do it, I'm doing it. I don't charge for my apprenticeships, I tell people to show up and be prepared to do the work. I'm excited about that, I feel like I'm living my purpose when it comes to that. I'll always be grateful I found a craft where I can have a great income and live, support my children, and still make beautiful art."
Lady L Tattoos has more information available at ladyltattoos.com.
Comment on or share this article